A tour of the old Spa...
Author & Photography
Revision date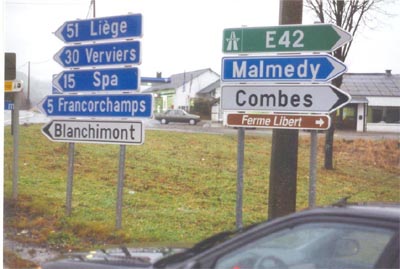 This winter my family and a dozen of friends spent the millennium week in an ancient but well-equipped Ardennes farm house. Spa was just 30 miles away, so on a damp and dreary Tuesday, January 4, 2000, I took the car out for a spin at the Francorchamps track. The weather was so awful that even the die-hard daredevils from Germany in their BMW and Mercedes muscle cars preferred their warm homes over an ultra-wet blast down the open roads. Then again, if Spa needed to be photographed in the right atmosphere, then today was the day. The low-hanging clouds turned the track into an solemn place, the silence almost begging for the sound of Climax or Cosworth engines ripping through the air. The few locals who were out on the day shrugged their shoulders as they witnessed the fanatic park on all the wrong places, only to be hosed with vehement lashes of rain before being able to take a snapshot or two. Here's what the track looked like that day.
| | | |
| --- | --- | --- |
| A look back up the old start/finish straight from Eau Rouge | The daunting cut-off from Eau Rouge to the Raidillon is beckoning | The Kemmel behind us |
| No we're not entering Les Combes today (although we actually did)... | ...but hammer down to Burnenville... | ...to the exit of that long winding corner where Jo Bonnier once had the fright of his life |
| The Masta kink looks easy at low speeds | The view from the Masta Friterie must have been incredible! | Entry to the banked corner at Stavelot. The old bridge is still there |
| The new track rejoins the old | Blasting into Blanchimont! | Off the kerbs and down to the Bus Stop |
| Crossing the new Grand Prix finish line | A view of La Source | Entering the pit lane... |
| | The tour stops here! | |