The 1937 French Drivers Championship
How Raymond Sommer became the first Champion de France in History
Author
Date
Related articles
The pre-war French Drivers Championships, by Rémi Paolozzi
Robert Benoist, 'Williams' & Jean-Pierre Wimille - A different danger, three champions at war, by Richard Armstrong
Delage - A World Champion manufacturer, by Leif Snellman/Josh Lintz
Delahaye - René Dreyfus and the upset at Pau, by Leif Snellman
Raymond Sommer - The heart of a lion, by Felix Muelas/Michael Müller
Talbot Monoplaces - The pre-war Talbot single-seaters, by Leif Snellman
Talbot-Lago - A case of what-could-have-been, by Mattijs Diepraam
Jean-Pierre Wimille - The uncrowned king of the forties, by Mattijs Diepraam
Who?

Jean-Pierre Wimille, Raymond Sommer, Gianfranco Comotti

What?

Bugatti T59S, Talbot T150C, Talbot T150C

Where?

Miramas

When?

3 Heures de Marseille (June 6, 1937)
Why?
At the end of December 1936, a journalist from L'Intransigeant, a daily newspaper in which French writers such as Malraux and Saint-Exupéry wrote some of their greatest works, suggested the creation of a French Drivers Championship.

Said journalist was a man called Georges Fraichard. He was one of the great French journalists, specialized in motor racing. A specialist of Le Mans, he wrote several books about this race, such as La ronde impitoyable and Le Mans story. Later, he even became the official speaker of the 24 Heures. He also worked for various French car magazines such as Moteurs and Auto-Journal. And last but not least, Fraichard was among the men at the origin of the Coupe Gordini, the French series that helped discover new drivers in the sixties.

In fact, many countries like the US, Germany, Italy, United Kingdom, Switzerland and even Hungary had been organizing their own national drivers championship since many years. But France, one of the countries where motor racing was born, had no championship at all. It was a pity as some France's drivers were top-class: Wimille, Dreyfus and Sommer were among the best of their time. Moreover, in 1936, the Automobile Club de France created a kind of national formula, based on sports cars, to compensate for the lack of competitiveness of French Grand Prix cars in the Formule Internationale. Big French manufacturers like Talbot, Delahaye and Bugatti designed cars to enter in these French races organized under the sports car rule.

So, Mr Pérouse, President of the ACF sporting commission, gave Mr Fraichard an answer through the media: he was in favour of such a national championship, even giving out some details about his ideas:

1. Only French drivers would be allowed to take part in the championship

2. Each race should be weighed by a factor according its importance

3. In order to encourage drivers to take part in the races that made up the championship, each entrant of a race would get either one or two points

4. The point system could be as follows:
1st: 10 points
2nd: 8 points
3rd: 6 points
4th: 4 points
5th: 2 points
These points would then be multiplied by the factor of the race (see 2.)

5. To decide between ex-aequo drivers, their results in the main races would be taken into account

6. The name of the car should appear next to its driver.

That last proposal was probably meant to promote the French constructors which were in crisis, as explained above. Talbot for instance went into liquidation in September 1936.

At the beginning of January, about one month after Mr Pérouse's proposal, the FNCAF (Fédération Nationale des Clubs Automobiles de France) officially created the French drivers championship.

The rules weren't published just yet but it was decided to grant FRF 10,000 (about €5,000) to the champion. FRF 5,000 would be given by the FNCAF itself and FRF 5,000 by the organizers of the French races. The list of these races was not yet known when the first important French event of the calendar took place at Pau.

Before we go to Pau it is perhaps interesting to introduce you to the main French teams. The favourites were undoubtedly Bugatti, Talbot, and the Ecurie Bleue. The latter was in fact Lucy Schell's team which was the semi-works Delahaye team, as it was decided by Charles Weiffenbach in December 1936. Consequently, the link between the French manufacturer and the Ecurie Bleue was the same as the link between the Scuderia Ferrari and Alfa Romeo.

The Ecurie Bleue drivers were René Dreyfus, René Carrière and Laury Schell. Dreyfus was 32 and began racing in 1925. He had just left the Talbot (sports) and Ferrari (single-seaters) teams to join Schell's team. René Carrière, was from the south of France, like Dreyfus. He was initially a rally driver and switched to sports cars in 1936 by joining Schell's team. Last but not least, Laury Schell was Lucy's husband and, like his wife, a driver who had had some success in rally. The cars were the old and reliable Delahaye 135CS but a brand new V12 car was about to enter racing.

Since 1935, Talbot was managed by the Italian Tony Lago. The team had some financial difficulties, as I mentioned above. Fortunately, the company could go on working. The car was the T150C whose first victory was in a minor event in 1936. It suffered some reliability problems but the winter was profitable for the team, as it enabled them to improve some features of the car. The drivers were Albert Divo, Gianfranco Comotti, Raymond Sommer and René Le Bègue.

Divo was 42 and considered the team leader, at least at the beginning of the season. The best of his racing career was behind him (he won two Targa Florio events in 1928 and 1929) but his experience was of great value. Comotti was 31 and began racing in 1928. He was a former Scuderia Ferrari driver but decided to leave Italy and return to France, being opposed to fascism as he was. Tony Lago chose Comotti over Trossi or Taruffi. Sommer was also 31 and began his racing career in 1931. He won Le Mans in 1932 and 1933. He was one of the best drivers of his era and in 1937, he was a semi-works driver for Talbot. This was also the case for 23-year-old Le Bègue who began racing in 1935 and came over from Lucy Schell's team.

Wimille (29 at the time) was the sole Bugatti regular. He had won some major races during the previous year (ACF GP, Marne GP) and was considered by Charles Faroux as the best driver in the world, besides Tazio Nuvolari. Robert Benoist, the virtual 1927 world champion, was also driving for the Bugatti team, at least occasionally.
Round 1: Grand Prix de Pau (Sports) – February 21, 1937
FACTOR 1
Circuit: Pau, (80 laps x 2,76km = 220.8km)
Organizer: Automobile Club Basco-Béarnais

It was winter. Even the fact that the circuit was in the South-Western part of France, not far from the Pyrénées mountains, did not prevent the weather from being harsh and cold. It had rained on Sunday morning so when the flag dropped the track of this street race was still wet. Wimille (Bugatti) was on pole with Dreyfus (Delahaye) and Bira (Delahaye) on the first row.

As soon as the start was given, Wimille flew away. Nobody could catch him as he was fastest by 3 or 4 seconds over his pursuers. He was the best. Behind him, Dreyfus and Bira fought for second place but Sommer (Talbot) succeeded in overtaking both drivers while Bira retired on lap 6. Two laps before, Brunet (Delahaye) had been the first driver to retire.

On lap 8, Divo (Talbot) overtook Dreyfus. At this moment, Wimille was ahead of Sommer, Divo and Dreyfus. Nevertheless, Divo did not increase his gap with Dreyfus who took the third place back on lap 14. Six laps later he was 7'' ahead of Divo and 11'' behind Sommer. Wimille was about 1'30'' ahead of Sommer. Incredible! Behind this quartet, Raph was ahead of Perrot, Carrière, Chaboud, Maillard-Brune, Schell, Paul and de Saugé. All these drivers were at the wheel of Delahayes, except de Saugé who was driving a Bugatti.

On lap 20, everybody, except Sommer, was one lap behind the leader who set fastest lap (1'55'') on lap 17. Ten laps later, Sommer was lapped too. On lap 32, Divo got very close to Dreyfus and overtook him. The fight between both drivers continued as Dreyfus retook third place on lap 40.

But problems began for Talbot. Their cars were the fastest but also the heaviest, and their brakes were not as efficient as they should have been. It meant that drivers had to brake much sooner than during the beginning of the race, and they began to lose ground. Divo was well ahead of his pursuers so it was not a problem for him but the braking problems posed more difficulties for Sommer. On lap 60 he was 22'' ahead of Dreyfus whereas on lap 77 the gap was down to only 8''. He was losing more or less 1 second a lap. However, he made a last-ditch effort and took fastest lap (1'54'') on the very last lap.

Divo was fourth, about one lap behind Sommer and Dreyfus. He was 46'' ahead of "Raph" who was followed by Carrière at 12''. Perrot, who was initially between "Raph" and Carrière, retired with gearbox trouble seven laps before the finish.

Classified results:
| | | | |
| --- | --- | --- | --- |
| 1. | J.P. Wimille | Bugatti T59S | 2h41'15'' (avg. 82,435 kph) |
| 2. | R. Sommer | Talbot T150C | - 1 lap |
| 3. | R. Dreyfus | Delahaye 135CS | - 1 lap |
| 4. | A. Divo | Talbot T150C | - 2 laps |
| 5. | « Raph » | Delahaye 135CS | - 2 laps |
| 6. | R. Carrière | Delahaye 135CS | - 2 laps |
| 7. | E. Chaboud | Delahaye 135CS | - 4 laps |
| 8. | P. Maillard-Brune | Delahaye 135CS | - 5 laps |
| 9. | L. Schell (USA) | Delahaye 135CS | - 5 laps |
| 10. | J. Paul | Delahaye 135CS | - 8 laps |
| 11. | R.de Saugé d'Estrez | Bugatti T57S | - 11 laps |
Did not finish:
| | | | |
| --- | --- | --- | --- |
| | A. Perrot | Delahaye 135CS | lap 73 |
| | R. Brunet | Delahaye 135CS | lap 6 |
| | B. Bira (T) | Bugatti T57S | lap 4 |
Fastest lap:

R.Sommer (Talbot T150C), 1'54'' (avg. 87,461 kph)

Two days after the race, some details were given to the media about the championship:

- The drivers have to be French and members of the ACF
- The European Grandes Epreuves of the international calendar would be weighed by a factor of 2
- The other races would be weighed by a factor of 1
- The point system was decided as follows:
1st: 10 points
2nd: 8 points
3rd: 6 points
4th: 4 points
5th: 2 points
Other entrants: 0,5 point
- The Champion de France would earn FRF 10,000 and receive the ACF gold medal.

Five days later, on February 27, the first official championship ranking was published as below in L'Auto:

After one race (Pau):
| | | | |
| --- | --- | --- | --- |
| 1. | J.P. Wimille | Bugatti | 10 pts |
| 2. | R. Sommer | Talbot | 8 pts |
| 3. | R. Dreyfus | Delahaye | 6 pts |
| 4. | A. Divo | Talbot | 4 pts |
| 5. | « Raph » | Delahaye | 2 pts |
| 6. | A. Perrot | Delahaye | 0.5 pt |
| | R. Carrière | Delahaye | 0.5 pt |
| | R. Brunet | Delahaye | 0.5 pt |
| | P. Maillard-Brune | Delahaye | 0.5 pt |
| | J. Paul | Delahaye | 0.5 pt |
| | E. Chaboud | Delahaye | 0.5 pt |
It was specified that Laury Schell could not be taken into account because he was not a French citizen. Moreover, it is surprising to notice that Raymond de Saugé (11th in Pau) is the only French driver who did not appear in the standings. Did the journalist forget him? Maybe Raymond de Saugé was not a member of the ACF? Maybe each driver who wanted to be classified in the championship had to be registered specifically for this competition? I have no answer, but the performances of Raymond de Saugé d'Estrez did not play a significant role in the competition.

Then, on March 10th, the official calendar of the French championship was given:
February 21: GP de Pau, factor 1
May 16: GP de Tunisie, factor 1
June 6: 3 Heures de Marseille, factor 1
June 19-20: 24 Heures du Mans, factor 1
June 27: GP de Picardie, factor 1
July 4: GP de l'ACF, factor 2
July 11: GP de Belgique, factor 2
July 18: GP de la Marne, factor 1
July 25: GP d'Allemagne, factor 2
August 1: GP du Comminges, factor 1
August 8: GP de Monaco, factor 2
August 22: GP de Suisse, factor 2
September 4-5: Tourist Trophy, factor 2
September 12: GP d'Italie, factor 2
But some three weeks later Maurice Henry wrote an article in L'Auto, stating that the championship should be "100% French". He disagreed with the fact that there were some foreign races counting towards the championship, citing the example of the Italian and German championships of which the races were only national ones. Moreover, the foreign races were weighed with a factor 2 whereas the GP de la Marne at Reims was only weighed with a factor 1. Clearly, Maurice Henry wanted to give priority to the French races and promote these.

Another point was that this championship was, according to him, made for Jean-Pierre Wimille, the only French driver to enter the Grandes Epreuves. In fact, this was wrong as neither the French driver nor his Bugatti team had planned to take part in these foreign Grands Prix.
Round 2: Grand Prix de Tunisie (Sports) – May 16th, 1937
FACTOR 1
Circuit: Carthage (3 heats of 8 laps x 12,6km = 3 heats of 100,8km = 302,4km)
Organizer: Automobile Club de Tunisie

This second race of the French championship took place under the sun of North Africa. Tunisia was, like a big part of Africa, a French colony. The race was divided in three heats of 8 laps. There were 45 minutes between each heat and no refuelling. As we will see, this had a big impact on the final result of the race. The winner was determined by the aggregate results of the three heats.

The main French drivers were there, except Robert Brunet who was preparing for Le Mans, and Philippe Maillard-Brune who did not find any team to lend him a car. Among the entrants there was Lami, a local driver at the wheel of his Lancia Astura, Franco Cortese at the wheel of an Alfa Romeo and "Raph" at the wheel of a Talbot T150C entered by André Embiricos. Talbot came to Tunisia with improved brakes, as this was the main weakness of the T150C in Pau.

During qualifying, Sommer (Talbot) was the fastest (4'55''2, avg 153,554kph), followed by Dreyfus (Delahaye) in 4'57''8, Carrière (Delahaye, 5'06''8), Wimille (Bugatti, 5'07''6) and Schell (Delahaye, 5'10''0).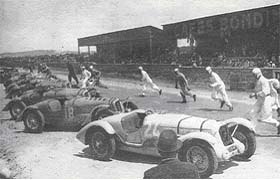 Tunisia: Sommer's Talbot in the foreground
On Sunday, the start of the first heat was given at 1:30pm. It was a Le Mans-type start. "Raph" and Dreyfus made a really bad start but the latter succeeded in being fourth at the end of the first lap, behind Sommer, Wimille (Bugatti) and Paul (Delahaye). One lap later, Dreyfus overtook Paul whereas Wimille overtook Sommer and flew away. He even set fastest lap of the day in 4'50''.

Carrière and Paul made a pit stop while Wimille was increasing the gap to Sommer: at the end of the seventh lap he was 27'' ahead of the 'wild boar' and one lap later he was 35'' ahead. But at the finish line he was welcomed by a black flag. Wimille did not understand and decided to do one more lap. In the meantime, the officials realized the mistake and took the chequered flag to put an end to the first heat.

So finally, the result of the first heat was: 1st Wimille; 2nd Sommer; 3rd Dreyfus; 4th Paul; 5th Chaboud; 6th "Raph". And don't forget the ninth lap of Wimille!

The start of the second heat was given at 3:00pm. Jannin could not take part in this race because of his tyres which were in a really bad state.

Anyway, Wimille flew away immediately and easily won the heat, just ahead of Sommer. Dreyfus, who made a bad start, was third followed by Carrière, Schell and Paul.

Chaboud retired while "Raph", who finished the heat, decided to retire and did not take part in the third and last heat because of an undergeared car and a chronic misfire. The result of the second heat was as follows: 1st Wimille; 2nd Sommer; 3rd Dreyfus; 4th Carrière; 5th Schell; 6th Paul.

In the third heat, Wimille flew away once more while Dreyfus, at last, made a good start. So Wimille was leading ahead of Sommer and Dreyfus. But on the second lap Dreyfus overtook Sommer who then took the second place back one lap later. Dreyfus retook Sommer one more time but on the seventh lap he had to slow down because of a puncture. Consequently, Sommer, Carrière, Paul, Schell and Perrot got ahead of him.

In the meantime, Wimille began his very last lap to apparently win the Tunisian GP with ease. He was one minute ahead of Sommer. But about 4km before the finish line he stopped his Bugatti, having run out of fuel. The consequences of the supplementary lap of the first heat were really frustrating for the French ace. Maybe he could have won this GP if he had only tried to follow in Sommer's wake. His victory was certain, given the superiority of his car, and if he had driven more slowly, his car would have consumed less fuel. But Wimille was a champion and wanted to win every heat. He also surely underestimated the consumption of his Bugatti! If only the officials had shown the right flag at the right moment at the end of the first heat… It meant that Sommer won the heat ahead of Carrière.

So, Sommer won the race. He was, like Wimille, a champion and a gentleman. He did not appreciate this lucky victory and came to shake Wimille's hand during the lap of honour. Only a great champion and a great man could act like that.

Classified results:
1.
R. Sommer
Talbot T150C
1h52'16''4
2.
R. Dreyfus
Delahaye 135CS
3.
L. Schell (USA)
Delahaye 135CS
4.
R. Carrière
Delahaye 135CS
5.
J. Paul
Delahaye 135CS
6.
F. de Brémond/
A. Perrot
Delahaye 135CS
7.
F. Cortese (I)
Alfa Romeo 6C 2300 Pescara
8.
C. Lami
Lancia Astura
Did not finish:
| | | | |
| --- | --- | --- | --- |
| | J.P. Wimille | Bugatti T59S | Heat 3 |
| | ''Raph'' | Talbot T150C | Heat 2 |
| | E. Chaboud | Delahaye 135CS | Heat 2 |
| | Jannin | Delahaye 20CV Spéciale | Heat 1 |
| | G. Léoz-Abad (E) | Bugatti T57S | |
Fastest lap:

J.P.Wimille (Bugatti), 4'50'' (avg. 156,414 kph)

Championship (after 2 races):
| | | | | | |
| --- | --- | --- | --- | --- | --- |
| | | | PAU | TUN | Total |
| 1. | Sommer | Talbot | 8 | 10 | 18.0 |
| 2. | Dreyfus | Delahaye | 6 | 8 | 14.0 |
| 3. | Wimille | Bugatti | 10 | 0.5 | 10.5 |
| 4. | Carrière | Delahaye | 0.5 | 4 | 4.5 |
| 5. | Divo | Talbot | 4 | - | 4 |
| 6 | Paul | Delahaye | 0.5 | 2 | 2.5 |
| | « Raph » | Delahaye/Talbot | 2 | 0.5 | 2.5 |
| 8. | Perrot | Delahaye | 0.5 | 0.5 | 1.0 |
| | Chaboud | Delahaye | 0.5 | 0.5 | 1.0 |
Because of this retirement, Wimille was only third whereas he could have been the leader of the championship with 20 points, followed by Sommer (16 points) and Dreyfus (12 points).

Schell was in 4th position in the standings published by L'Auto. It was only a mistake and Schell, an American citizen whose heart was French, never appeared again in the standings. Another mistake were the 2 points granted to Raph, instead of 2,5, in this same L'Auto classification, as if the driver had not taken part in the race in Tunisia.
Round 3: 3 Heures de Marseille (Sports) – June 6th, 1937
FACTOR 1
Circuit: Miramas, (3 one-hour heats, on a 5km track)
Organizer: Automobile Club Marseille-Provence

The French drivers were back to France for the third race of the championship at Miramas near Marseille.

Talbot came with new improvements, reducing the weight of the T150C from 1,060kg to 985kg (-7%). The power of the engine was also increased. Consequently, the Talbots were considered, logically, as the favourites for the 3 hours of Marseille.

As in Tunisia, there were three heats of one hour each. It was decided to put in two chicanes for the first heat, only one chicane for the second heat and no chicane at all on the third heat. Presumably, the Talbots, which were the fastest cars, could dominate the last heat as the track of Miramas was a very fast (and boring!).

For Wimille the only chance to win was to be ahead of the Talbots by a huge margin at the end of the first heat and to try to follow the path on the last two heats. The Talbots were the fastest and, moreover, the Bugatti had a small fuel tank (100 l.) versus 200 liters for the cars of Sommer, Comotti, Divo and Morel. It meant that the car from Molsheim was lightest but it also meant that a pit stop for refuelling was necessary during the race. Not easy for Wimille. Above all when he realized that Sommer was dominating the practice sessions, whatever the number of chicanes!

So, on sunday, at 2:00pm, 25 cars were on the grid. De Brémond/Perrot (Delahaye) and an old Bugatti did not take part in the race because of their accident during the practice sessions. Each driver was in his car, the engines were switched off. They were waiting for the flag before starting the engine. While Divo (Talbot) made a bad start and lost about one minute, Sommer took the lead over Wimille, Comotti (Talbot) and Morel (Talbot). On lap 3, Wimille took the lead and distanced Sommer by 1'' a lap. Comotti and Morel were far from the leaders. Morel was slower and overtaken by Dreyfus who retired soon after. Divo was fighting to gain places.

At mid-race, Wimille was still leading. Sommer was second, Comotti was third at 45'' and Morel was back in fourth position but one lap behind Wimille. At the end of the heat, Wimille won by 25'' over Sommer and by 1'25'' over Comotti. There was no refuelling between the two heats, which was a problem for Bugatti. It was not the case of Talbot. So the 25'' over Sommer were not enough. Wimille surely knew he had lost the 3 Hours of Marseille.

HEAT 1 (with 2 chicanes):
| | | | |
| --- | --- | --- | --- |
| 1. | J.P. Wimille | Bugatti T59S | 1h00'52'' |
| 2. | R. Sommer | Talbot T150C | +25'' |
| 3. | G. Comotti (I) | Talbot T150C | +1'25'' |
| 4. | R. Carrière | Delahaye 135CS | - 1 lap |
| 5. | A. Divo | Talbot T150C | - 1 lap |
| 6. | L. Schell (USA) | Delahaye 135CS | - 1 lap |
| 7. | J. Paul | Delahaye 135CS | - 1 lap |
| 8. | D. Porthault | Delahaye 135CS | - 3 laps |
| 9. | A. Morel | Talbot T150C | - 3 laps |
| 10. | Mrs G. Rouault | Delahaye 135CS | - 4 laps |
| 11. | L. Villeneuve | Delahaye 135CS | |
| 12. | P. Levegh | Bugatti T57 TT | |
| 13. | M. Contet | Riley TT Sprite Pourtout | |
| 14. | F. Cortese (I) | Alfa Romeo 6C 2300 Pescara | |
| 15. | S. Banti (I) | Alfa Romeo 6C 2300 Pescara | |
| 16. | Legré | Bugatti | |
| 17. | P. Merlin | Delahaye 135CS | |
| 18. | R. Forestier | Riley | |
| 19. | M. Collier (GB) | Aston Martin Ulster | |
| 20. | H. Trintignant | Hudson | |
| 21. | Pasteriano | Delahaye | |
Did not finish:
| | | | |
| --- | --- | --- | --- |
| | R. Dreyfus | Delahaye 135CS | |
| | G. de Rham (I) | Alfa Romeo 6C 2300 Pescara | |
| | G. Leoz | Bugatti T57S | |
| | Boudot | Amilcar Pégase | |
Laury Schell, who was sixth, decided to gave his car to Dreyfus for the second heat.

It is possible that Wimille thought it was his day when Sommer stalled at the start of the second heat. Sommer lost about thirty seconds and finally began the race on the very last position. Wimille fought with Comotti but the latter took the lead and made the best lap of the heat (165.731kph). In the meantime Sommer overtook each driver, Wimille and Comotti included, and won the heat. He was the new leader of the race, after two heats. Wimille was now second while Comotti was third and very close to him.

HEAT 2 (with 1 chicane):
| | | | |
| --- | --- | --- | --- |
| 1. | R. Sommer | Talbot T150C | 1h01'39'' |
| 2. | G. Comotti (I) | Talbot T150C | + 6'' |
| 3. | J.P. Wimille | Bugatti T59S | + 1'19'' |
| 4. | A. Divo | Talbot T150C | + 1'26'' |
| 5. | R. Carrière | Delahaye 135CS | - 1 lap |
| 6. | R. Dreyfus* | Delahaye 135CS | - 1 lap |
| 7. | A. Morel | Talbot T150C | - 1 lap |
| 8. | J. Paul | Delahaye 135CS | - 2 laps |
| 9. | P. Levegh | Bugatti T57 TT | |
| 10. | Mrs G. Rouault | Delahaye 135CS | |