1996 Indianapolis 500
The 239.260 car
Author
Date
Related articles
What?

Arie Luyendijk's Record Car

Where?

Indianapolis Motor Speedway Museum

When?

September 2014
Why?
It is 1996. Open wheel racing in America has been torn to pieces. The CART Indycar series, up until the previous year "a success despite itself" (copyright Robin Miller) is no longer the only kind of Indycar racing. In fact, from this year on CART events are no longer Indycar races, since they don't race in the Indianapolis 500 anymore. Their cars have been renamed into Champcars.
There are still Indycars that race at Indianapolis, but by now Indianapolis belongs to a different, newly introduced championship founded by the Indianapolis Motor Speedway and USAC. It is called the Indy Racing League. A championship open to everyone who wants to race with cars complying to the formula. But to protect themselves against cherry pickers who only want to race in the League's big event (the Indy 500) the organisers have decide to reserve 25 of the 33 starting spots for teams taking part in the entire championship. The remaining 8 spots are left for Indy-only teams. In principle, those are the only spots available to the 25 or so CART entries that might consider entering the event.
There were other reasons for the CART teams to boycott Indy but this is the final straw. They organize their own 'jewel-in-the-crown event' on Memorial Day, held at the Michigan Motor Speedway.
The IRL was created in 1994 by Speedway president Tony George after a number of disagreements between himself and CART. One of these disagreements was the fact that the little specialist teams of which so many had entered the "500" in the past had less and less options to be competitive against the big and wealthy CART teams. Tony wanted to keep these teams having a chance against the big guns, and also wanted to see drivers who had gone the traditional American 'Road to Indy' (the midget and sprintcar dirt track racers) succeed in making it to Indy whereas CART team owners more and more selected drivers with road racing experience to drive their cars. The influx of South American and European drivers who had failed to make it into F1 but found employment in the USA went at the expense of American drivers. Those with oval experience primarily stood the least chance of making it into a CART team. And there were many other things Tony wanted to see which didn't meet approval from CART. And vice versa.
Hence 'the split'. It appeared as if both parties felt confident that it was the right thing to happen in order to show they had the better ideas, with the other party eventually coming to their senses. The 1995 event saw several surprising things happening all month long, but something that appeared to be given little attention (vecause of all of these surprises?) was that it was known to just about anyone that this could well be the last ever "500" in the shape it had been run in recent years. Still, it was as if few people cared about it, as if there was the unspoken faith that things would be resolved in time. Or otherwise it was simply accepted that the character of American open wheel racing was about to be ripped to pieces. After that race, that was memorable for more than just that reason alone, nothing happened to avoid the split and so it duly happened. As a result, the big teams and names from CART stayed away from the Indy 500 in May 1996. So while the cats weren't there, the mice could play at the Indianapolis Speedway. Indianapolis, which a year before was still one of the three major races in the world, all of a sudden had become a playing field for the little guys.
The cars at Indy in 1996
As if to make the split even more final, IRL announced new rules and specifications for its cars to be valid from 1997 on. The main intention was to make things cheaper and enable access to all available technology (engine and chassis) by nominating eligible constructors for both chassis and engines. New chassis and engines were coming up. Bigger, bulkier looking cars with normally aspirated 4-litre V8 engines, still with 4 valves per cylinder and double overhead camshafts, yet derived from a production-car unit. Time was too short to start with the new cars instantly so a compromise was reached. Cars and engines that existed in 1995 and complied to the rules valid in 1995 were accepted for entry. Only one type of engine was banned for 1996 already: the bespoke purpose-design 3.43 litre (209 CI) pushrod engines with single camshaft. The potential of this controversial kind of engine had already been cut back quite a bit for the 1995 race but to assure that the legendary yet controversial Ilmor 265E could return one more time, the kind of configuration it belonged to was outlawed one year early. The ban also spelled the end for the other engine of that variety, the Greenfield GC209T. Other than that kind of engines, anything else existing in 1995 was eligible for one final year of duty but new material built in 1996 was not.
Under this compromise ruling, engines were in a difficult situation. Ilmor/Mercedes was partly owned by Roger Penske, one of the big guns with CART and Ilmor wasn't really known for leasing engines to smaller teams filling up the numbers. Honda was still fairly new and unproven but also strongly linked to CART teams, while the brand new Toyota engines were too young and so ineligible.
Ford had introduced a follow-up to the Cosworth-built XB engine, the XD, also built by Cosworth. That one was too young too but its existence freed up a certain number of XBs that found their way into the hands of IRL teams. XBs also had the advantage of being easier to get hold of than either Ilmor/Mercedes and/or Honda engines.
And then there was Menard. The team that built its own engines based on the turbocharged stockblock Buick V6 could handle itself as well as perhaps a few more teams. Some older Buicks were still around as well and looked likel for a return to the Speedway, but that was it.
In the past, CART teams had sold off their older cars, minus engines of course because these are leased. So a number of 1994 Lolas and a few Reynard are available in addition to a number of 1993 and 1992 Lolas. But unbelievably enough, some of the CART teams had also sold off the most recent aged cars so there are a number of Reynard 95I's and some Lola T9500s on the market as well. CART could have made it a lot more difficult for IRL teams if they had hold on to the most recent elder cars. Then even more cars of at least two years old had to be used, tarnishing the status of what some still claimed to be the most important race within the USA even further.
What cars were there to see at Indy in 1996
The entry list for the 1996 Indy 500 looked like a catalogue of what used racing car dealer Chuck Haines at St. Louis had to offer, but larger than ever before or since. No doubt that all of these cars must have had a tale or two to tell about previous 500s they may have been in.
They consisted of predominantly Lolas built between 1992 and 1995, the older the car, the more likely it was Buick-powered. The Reynards (all of them built either 1994 or 1995) were all XB-powered, a proven quantity for the cars. Only two CART teams were represented due to sponsorship commitments. Walker Racing fielded a '95 Reynard-Ford for Mike Groff while Galles Racing entered Davy Jones with a Lola-Mercedes, the only Mercedes IC108-powered car entered.
The oldest car in the field was of 1991 heritage. A Lola with Buick power, naturally, it was entered by a team with the telling name of Loop Hole Racing.
Many of the cars that entered never showed up at all in Gasoline Alley. Eventually, even though many more were entered, 49 cars were at the track that year and are recorded as having driven laps. From what I could deduct, the majority of cars that did show up were '95 Lolas and Reynards followed by '94 Lolas. It was impossible for me to fully identify all the cars that showed up, let alone those entered. I could figure out that there were at least 14 Reynards (2 94Is and 12 95Is) and at least 32 Lolas, 24 of those being T94/00s and T95/00s. But to make things a bit more complicated, two T95/00s appeared on a list I obtained with the very same chassis number while among the Reynard 95Is I located the 4 but also a 4A. Anyway, as was usual since 1989: Lola outnumbered the opponents.
Of all the cars I've been able to identify as having driven at the track, 8 of them were older than 1994. Among these 8 was the aforementioned Loop Hole Racing-entered T91/00. There were at least 3 T93/00s and all of those made it into the race.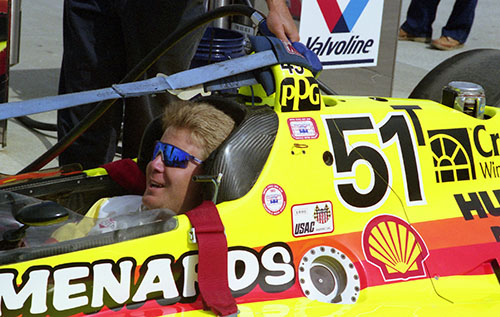 The T93/00-20 was one of the bespoke T93/00s built for Team Menard for use with their V6. In 1993 the car served as Gary Bettenhausen's backup. (photo HG)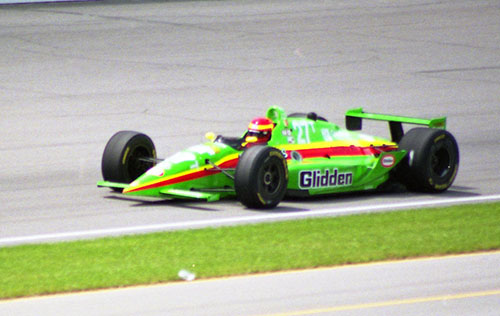 Menard Racing did not order new cars for 1994 but relied on the year old cars for another year. T93/00-20 started the Month of May as a backup entry yet again, this time for Eddie Cheever. But during the second week it appeared at the track driven by Scott Brayton. Scott eventually qualified the car in this green trim. (photo HG)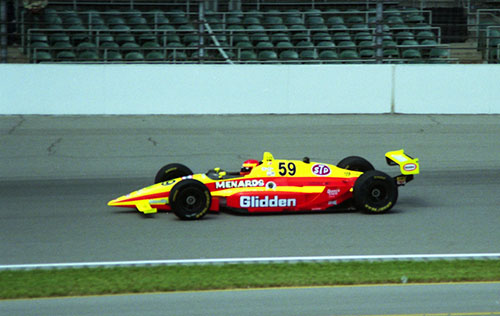 After being qualified by Brayton in "the Cheever colors" the car was repainted and renumbered in the trim that Brayton was supposed to use. (photo HG)
On the list I received I could identify only 4 T92/00s. Only one of these qualified for the race and that car was to make its third race. Scott Brayton and Stéphan Grégoire had driven this ex-Dick Simon car in '92 and '93 already but it didn't qualify in 1994 and 1995. This car was the oldest car in the starting field.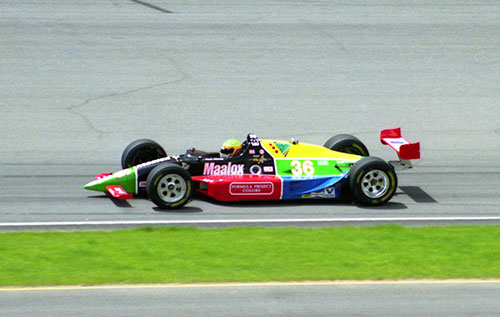 This is the Buick-powered Lola T92/00-009, here seen driven in 1993 by French rookie driver Stéphan Grégoire. In 1996 it was the number 96, driven by Paul Durant. (photo HG)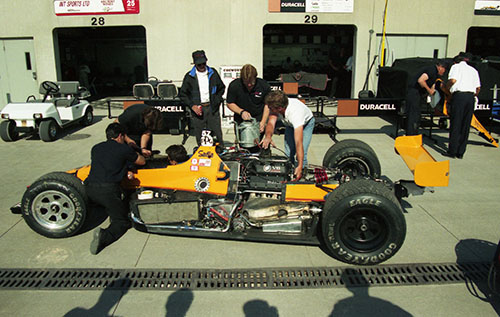 Apart from the fleet of Cosworth XB-powered T93/00s and T94/00s entered by Dick Simon Racing in 1994, there was one Buick-powered T92/00 backup car that appeared in Gasoline Alley in the final days of practice. Although 100% proof hasn't been found yet, it is more than likely that this car was the very same T92/00-008 Simon had already fielded in 1992 and 1993. (photo HG)
Another T92/00 that failed to make the race in '96 was the car that made Bump Day '93 an unforgettable experience: Eddie Cheever used it to bump defending CART champion Bobby Rahal out of the race.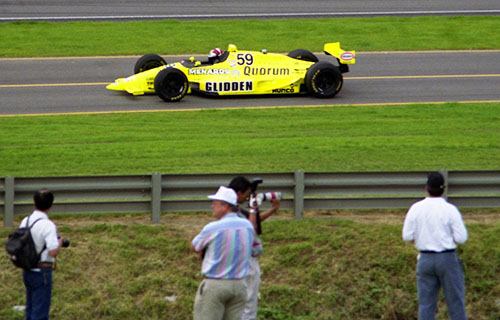 Lola T92/00-008 had been raced in 1992 by Gary Bettenhausen but one year later it looked like this. It was the car Eddie Cheever used to qualify for the 1993 race, bumping defending champion Bobby Rahal from the field. It was the third car Cheever qualified that year since his two original entries (both primary and backup) had been bumped from the field. According to the 1995 IMS Reports it was Franck Freon's #92 Autosport Racing Team entry in which Freon made the field initially but was eventually bumped. It was present in 1996 again, yet wasn't qualified. (photo HG)
Some cars of 1994 origins were also present that year.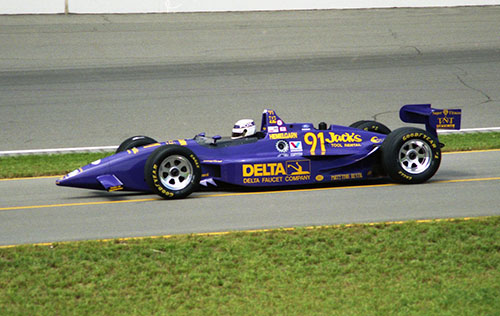 One of the 94Is in the 1996 race was 94I-014, in 1994 driven by Stan Fox. In 1996 it again had a high starting number, the highest possible in fact: 99, driven by Roberto Guerrero. (photo HG)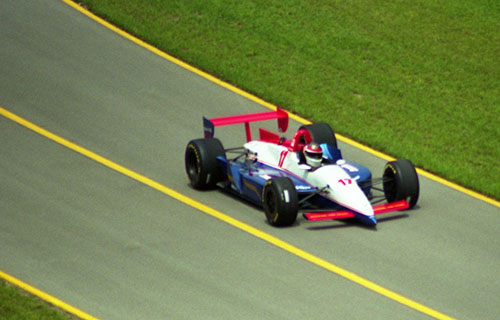 Dominic Dobson drove the Pac-West-entered Lola T94/00-27 in 1994. It was again at the track in 1996 but the list I had available provided no definitive clue as to which identity it had and who drove it. (photo HG)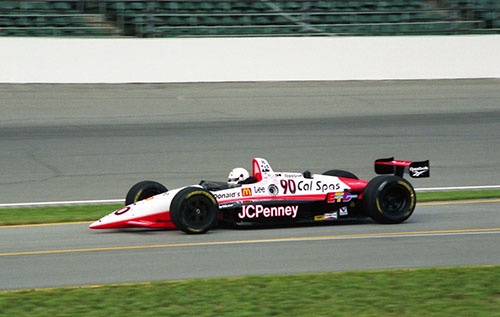 Lyn St. James caused a sensation in 1994 with the Lola T94/00-29 when she qualified 6th fastest and even outqualified Nigel Mansell. T94/00-29 was driven in 1996 by Joe Gosek. (photo HG)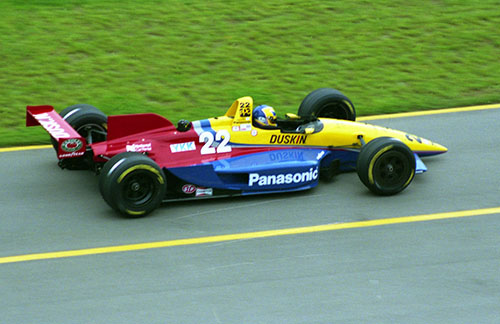 The car that in 1994 had the biggest Novi-fin of them all was T94/00-32, driven by Hiro Matsushita. It was present in the 1996 race, yet two different identities were given: it was said to be either the #45 of Lyn St. James or the #90 of Slick Racin Gardner. (photo HG)
The cars that could become historic at Indy in 1996
Needless to say that even in advance it couldn't be expected that many of the cars entered would become famous enough to be worth being preserved and eventually put in the Museum at the Speedway. Only one car for certain would be a welcome addition to the collection of the Indianapolis Motor Speedway Museum: the winning car. And only if the owner of the car wanted to cooperate since in recent years it had become ever more difficult for the Museum to get hold of the winning cars. Since 1983 the Museum had only seen one addition to the permanent collection, although fortunately one with even more history than simply being a winner, as the 1990 winner was also the record holder for the fastest race winner ever (until 2013). But the only interest Roger Penske had for winning cars and the IMS Museum was to get his own first-ever winning car out of that collection and into that of his own! No way Penske would ever donate any of his other winners (9!) to the Museum. And Penske wasn't by far the only winning car owner to hold on to his winning car. So it was far from sure that the 1996 winning car would find a permanent home at the Speedway.
If it came to predicting which car was able to join the select group of Indy winners the best chances were with either a Ford XB or the Lola-Merc driven by Davy Jones. The Buick V6 stockblock heritage engines, either still being Buicks or the Menard-built versions, had a reputation of being fast in practice but too unreliable in race conditions (more on that later on).
Among the XB-powered brigade a few teams had raced at Indy before and knew a thing or two about how to be successful at Indy.
Then again, Indy has a lot of traditions and appears to have certain statistics and curses to remain strong. One of them dealt with competing chassis builders. Since 1990 Lolas had made up the bulk of the field but despite outnumbering the opposition handsomely the only race in the 90s they won was in 1990. Which in hindsight wasn't that strange. Lola had only won twice at Indy before: in 1966 and 1978. So there was a time span of 12 years between each victory! With this 'once a dozen' curse Lola was destined to wait until 2002 for the next victory. A curse can be broken, of course, but assuming it was there to last, it meant the majority of the field could be discounted for victory.
So that left the Reynards.
The number of experienced top drivers was very small. The biggest name among them was 1990 winner Arie Luyendijk, who drove a Reynard-XB. On paper he looked like the big favourite, but one thing went against Arie: his team owner was almost entirely new to Indycars, even though his associate sponsor knew his way around at the track. Besides that, Arie's team had a great engineer in Tim Wardrop, and he and Arie could work very well with each other.
It is interesting to mention that Arie acknowledged the fastest combination possible that year had been a Reynard with the 1995 Honda engine. In fact, his team (Treadway Racing) had undertaken efforts to get hold of such engines but that attempt failed.
Other cars could end up in the Museum because of a special achievement. There was a decent chance a second 1996 starter could end up being a justified candidate for the Museum, even if it wasn't going to be the winning car. With the new regulations and cars coming up, it was clear that the new generation of cars were going to be much slower than the current turbocharged cars. The track was paved in the fall of 1995 and smoother than ever. No speed-reducing rule changes had been introduced in the year before, so everything was set for lap speeds faster than ever before.
If such was to happen, it appeared the options for this honour could be narrowed down to a mere six cars.
One year before, the Team Menard Lola-Menards had been the fastest cars at the track in both practice and qualifying. Based on the standard Lola T95/00, these cars had be redesigned to accommodate the Menard V6 in the best possible manner. The intakes on the V6 engines had been higher than ever before since 1995 which mandated much higher engine covers. This earned the cars the nickname 'Humpbacks'. Maybe not as sleek as the regular Lolas, the Humpbacks had a power advantage at their disposal of at least 100 to 150 hp and made good use of that additional power during practice and qualifying, resulting in a 1-2 for Menard drivers Scott Brayton and Arie Luyendijk. That the race was less successful for Menard was no surprise given the known lack of durability for the V6 pushrod engine in race trim. The fact that Arie Luyendijk still ended up 7th was surprising. It wasn't the best finish ever for a Buick or Buick-based engine but Arie did achieve something that until then only one other driver had managed to do with such an engine: he completed the full race distance of 200 laps. (Al Unser Sr was the only other driver who managed to achieve this fact by finishing third in 1992, also with a Menard-entered car, but the engine was still named Buick since the company was still fielding a factory-supported effort at that time.)
The fastest cars of the previous year were back for another go, and there was good reason to believe the fastest qualifier would again be one of these Menard Humpbacks, having already set new track records. But how long would it take before these track records would ever be broken? So the fastest qualifier for the race could become an interesting addition to the Museum collection as the fastest car ever at the Speedway, and for quite some time to come as well.
The smart money was on the fastest qualifier being one of the 6 Menard Humpbacks, together making up almost half of the 13 T95/00s entered that year.
After the race, the historians knew that there were indeed two cars from the 1996 starting field worth preserving for the future. The first one was the Reynard 95I-Ford XB that won the race and so became legendary as an Indy race winner. The car was a Hemelgarn Racing entry driven by Buddy Lazier.
Ahead of the #91 Reynard 95I (as far as I have been able to deduct it was 95I/012) becoming a legend another car made history, and it was a car that no-one had expected to write that particular page of history. However, it did so in a manner that earned admiration and respect from just about anybody at the track, since it broke the track record and in the process also beat the much-favoured 'Humpbacks' in a humiliating way and with an equally humiliating margin.
The car that wasn't predicted to become a Speedway legend
The month of May was a weird one. Something was definitely missing. But in the first week of practice one prediction was proven right during the first days. Initially the Menard humpbacks were the fastest cars out on the track, driven by Scott Brayton and Tony Stewart. They easily lapped just below the 235 mark or a bit above that. Still there was a feeling that it should have been slightly faster. The previous year, the cars had ran 234 mph, so they hadn't gained that much more speed. Nevertheless, a Menard-Lola on pole looked the most likely outcome, until the Thursday before Pole Day.
Tuesday, May 7, saw Arie Luyendijk enter the top-5 with a 232.16 mph average in his primary car, the #5, a 1995 Reynard-XB. The following day was rained out but Thursday (May 9) became another shootout between the Menard team and Luyendijk. Arie reached 233 in his primary car #5 but later that day took out his backup #35 (another Reynard-XB) and shocked everyone by setting the fastest-ever lap at the Speedway with a massive 237.77 average. For the first time a regular Quadcam 2.65-litre engined car had bettered the speed of the humpbacks. Arie proclaimed that the backup felt much better and its speed showed such.
Next day, Fast Friday (May 10), was cut short by rain in the afternoon but those present had seen the fastest laps ever turned at the Speedway. While Brayton and Stewart were unable to break the 237 barrier, Luyendijk took out the #35 again and registered a lap in 37.616 seconds which meant an average of 238.045. About half an hour later the 239 barrier had crumbled too with a mindboggling 239.260 average.
It had happened before that the fastest car and driver in practice didn't always end up on pole, and it didn't happen in 1996 either. The following day (Pole Day) saw Tony Stewart on pole until in the last hour Luyendijk passed him in what had been the original primary car that had been entered as #5 but had been renumbered into #5. Arie set new track records for 1 and 4 laps in the process (234.732 and 233.390 respectively). With half an hour to go, Scott Brayton withdrew his qualified car and instead made a new attempt in order to wrestle away pole from Luyendijk. Although he didn't manage to break Arie's one-lap record he did set a new four-lap record and so won the pole. Almost two hours after qualifying Luyendijk's day was ruined even more when it was discovered that his car had been underweight during its qualifying attempt. USAC declared the attempt void and charged the car with one attempt done, with two attempts left since the violation had been an oversight and unintentional. Earlier in the day Arie had run into trouble with the car and repairs were needed. A rush followed in order to get the car into the qualifying line, with the team forgetting to verify the car's weight ahead of the qualifying attempt. But with just one of three qualifying attempts gone Treadway Racing was saved for worse. If USAC had taken the offence as being deliberate the car could have been thrown out. With the attempt being taken off, Arie also lost the one-lap record he still held after Brayton's pole run.
Luyendijk was forced to qualify again and, whatever his average was to be, end up behind all the first-day qualifiers: meaning P21 at the very best, assuming that none of the cars ahead of him would be bumped.
It enabled Arie to at least try to become the fastest qualifier and thus drive the fastest car ever and make it back in the record books again.
On Sunday May 12 Arie took out what was originally entered as #35 but now numbered #5 for its first attempt and was the first qualifier of the day. It was to be a memorable qualifying attempt. Starting with a brand new one-lap record, he was faster every following lap. The stats for his qualifying run were as follows:
Lap 1: 38.097 seconds, 236.239 mph (new 1-lap track record)
Lap 2: 37.983 seconds, 236.948 mph (new 1-lap track record)
Lap 3: 37.933 seconds, 237.260 mph (new 1-lap track record)
Lap 4: 37.895 seconds, 237.498 mph (new 1-lap track record)
Total: 2:31.908, 236.986 mph (new 4-lap track record)
Arie was indeed 21th in the starting field and it marked the fifth time in history that the driver who set the new track records wasn't on the pole position. For the actual race his car was renumbered #5. In fact, according to the IMS Media Bulletins the two Treadway cars swapped numbers on Pole Day and in the second week of practice ran with their new numbers, which may have had some effects in a matter we will run into later on.
On Race Day, however, Arie was promoted to 20th spot due to tragedy. Pole sitter Scott Brayton had been practicing a backup car on Friday May 17 but got into an accident in which he was killed. The pole-winning car was taken over by Danny Ongais who, as the rules say, had to start the race from 33rd and last position.
Being the fastest car ever in Speedway history, unofficially and officially, with the new cars coming up the following year, all of that ensured that this was at least one reason to preserve this car for the ages.
In the actual race, Luyendijk steadily worked his way through the field and eventually ended up with the leaders. There was a yellow on lap 94 when Brad Murphy crashed. Arie made a pitstop but his engine stalled, losing him a few seconds. Eventually he left the pits and entered the warm-up lane with Team Scandia driver Eliseo Salazar driving next to him. Somehow, Salazar managed to run into Luyendijk, causing damage to their cars with Arie getting off worst of the two. Although repairs were made and Arie continued the race his chances for victory were gone. Eventually he retired from the event.
So Arie's Reynard #5 (#35) didn't become legendary because of being the winning car as well. For the time, though, it was the fastest car ever at the Speedway with the official and unofficial one-lap record and the 4-lap qualifying record. Given the rule changes it appeared as if these achievements could remain in the record books for a long time to come.
Since May 12, 1996, long-time Indyfans haven't heard track announcer Tom Carnegie make his famous comment "And it's a new track record" in equally famous fashion. The first reason was that Tom Carnegie died in February 2011, and secondly, in the years that Carnegie was still alive track records at Indy were never broken again. What's more, they were never broken after Tom died either, so when this article was written (2014) Arie's records were 18 years old, by far the longest period for the one and four-lap record held by the same driver-and-car combination. The previous longest standing records were those set by Leon Duray in his legendary black #4 Miller 91 FWD car back in 1928. Duray lost his records after nine years.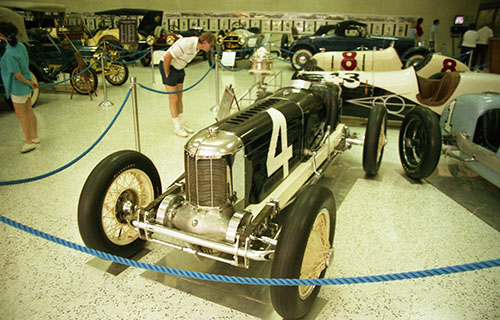 Leon Duray drove this black front-wheel-drive Miller 91 FWD (1.5-litre supercharged straight-eight) to track records that were bettered at long last in 1937. (photo HG)
Technically, however, Arie's qualifying records are not the oldest in the Speedway's record book. If track records are determined for certain specifications of cars, the Speedway is listing two official records that are even older, much older in fact. The one-lap qualifying record for a front-wheel-driven car is held by Bob Mathouser in the Mickey Thompson Challenger Wheel Special, set in 1965! Mathouser was unable to finish his attempt so he never got the chance to take the four-lap record for front-wheel-driven cars as well. Because of that, Chet Miller's four-lap-record of 1952 (!) with the Novi is still the fastest qualified front-driven car ever. When Miller clocked his record it was also the all-time four-lap record but as such it was bettered in 1954.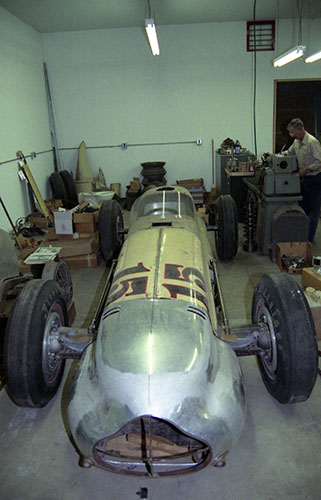 This was how the Novi in which Chet Miller drove the 1952 track records looked 41 years later. Miller crashed to his death with this car one year later and the cream paintwork visible on the wreck was that of 1953. Restoration was taking place in 1993 and finished in 1998. This is still, even today, an official track record holder at the Speedway, by now (2014) for over 62 years! (photo HG)
This very same Novi has another unusual statistic. Apart from being the record setter in 1952 (which lasted two years) this very same chassis had also set track records in 1946 with Ralph Hepburn driving. Those records were bettered four years later in 1950. So with two different drivers, the car had been track record holder for a combined period of six years, also one of the longest periods that a car owned the record.
There were more than enough reasons for the Speedway Museum for wanting to add Arie's record setter to their collection and fortunately, the car has indeed been donated to the Speedway, and so it will be preserved in its most glorious configuration.
Given that by now the car is not just fastest car ever at the track but also the fastest car ever for the longest time of all track-record holding cars, the car deserves a special place among all the cars. Indy has a tremendous focus on winning drivers and cars, never shown more clearly than in 2011 when, during the 100th anniversary of the race, the museum floor was 'cleaned up' and a massive display was created containing the majority of the surviving winning cars since 1911. But by now the Record Car most definitely deserves a special place in the museum too.
The identity of the Record Car
As already mentioned, due to the fall-out between the Indianapolis Motor Speedway Corporation and Carl Hungness Publishing the easiest way of finding the chassis numbers of the 1996 starting field was lost. The Indy Review of that same year doesn't list any chassis numbers either. All that both books say about the car is that it is a Reynard 95I. Now, according to Autocourse's 1995 CART annual, 25 of such cars were built, and only two chassis numbers can't have been the Record Car. Villeneuve's 95I/010 retained its winning-car identity while 95I/022 was written off in the Stan Fox crash (Hungness 1995 yearbook data used for these chassis numbers). That means that 23 cars are still left...
I have seen the Record Car on four occasions in the IMS Museum and the first time I saw it (September 2000) I couldn't see anything of the chassis plate.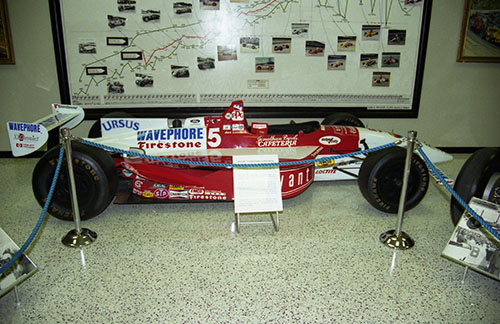 The Speedway Museum gave special attention to the evolution of the track records from 1911 to 2000. The first car in front of the exhibition was the fastest-ever car at the speedway, but it was difficult taking pictures that year. (photo HG)
The second time I saw the car (November 2003) I had a look at the chassis plate. It read that the car was supplied to Forsythe-Green racing and was a 94I. The chassis number, however, was unreadable.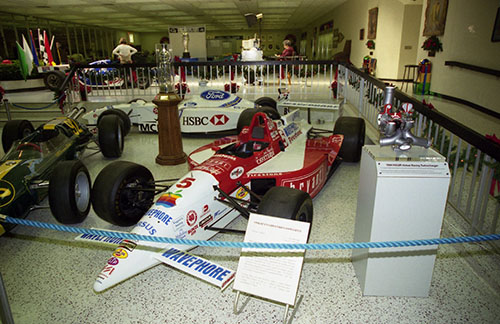 The Record Car was exhibited on a more central location in the museum in 2003. (photo HG)
The third time I saw the car was in June 2013. There was also a plaquette telling us what this car actually was.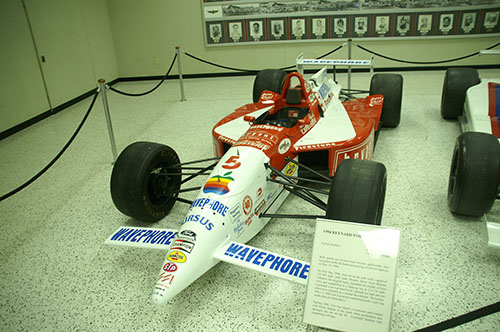 The Record Car as it was exhibited in June 2013. (photo HG)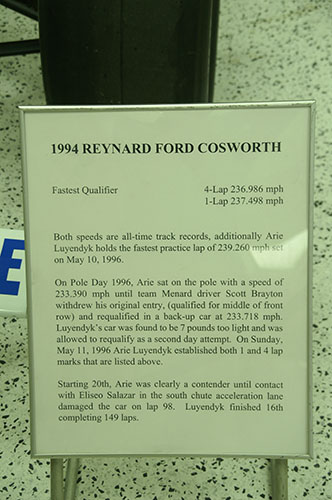 The information board with the car. (photo HG)
And this time I had more luck with inspecting the chassis plate and I was able to take a decent picture of it.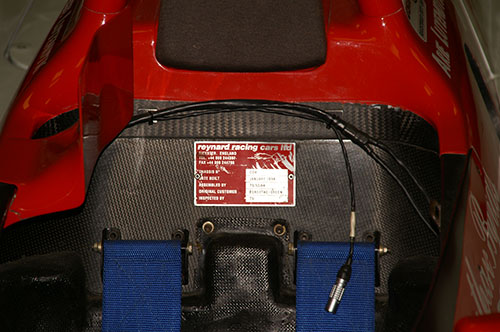 Some kind of a 'Hello, my name is...' decal you see people wear ever so often in the garage area during the Month of May. (photo HG)
The car at IMS in the Record Car configuration carries a chassis plate lacking a type registration but says it's 004 of the type of car that it is. Built in January 1994 and supplied to a team active in CART in 1994, says this must be a 94I, so chassis 94I-004 in particular, confirming the information on the accompanying board that this actual car is a Reynard-Ford 94I. In other words, unlike what is said about the car in the two 1996 yearbooks, it's no Reynard 95I.
However, entry lists and both 1996 Indy annuals say it's a '95 car. Besides that, we know that the IMS museum has cars on display that look like the real thing but actually are not what they seem to be. Did they do that again, using a 94I instead of a 95I?
Or are the 1996 entry lists mistaken? Was Arie's original backup truly a 1994 car? The 1994 Autocourse Indycar annual says there were 14 94Is built that year. Checking the 1994 entry list in the Hungness I found 13 of those entered for the race. Michael Andretti, Mauricio Gugelmin, Adrián Fernández, Jacques Villeneuve, Jimmy Vasser and Teo Fabi all appear to have had a primary car and a backup at their disposal while Stan Fox had a singleton entry. Fox was the only driver not belonging to a CART team, doing the full season. He drove for the Hemelgarn team.
According to the '94 Hungness yearbook chassis 94I-004 wasn't in the race. Not that it is written as such but it can be deducted from the fact that the book does state that Jacques Villeneuve who drove for the Forsythe-Green team qualified and raced 94I-007.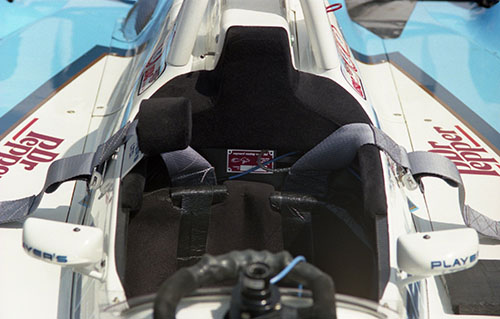 Picture taken in the pit lane on Race Day 1994, before the start. This was the car driven in the race by Jacques Villeneuve, the Forsythe-Green #12 entry. The chassis plate can't be read but it is clear that the plate looks much different from the one fitted in the Record Car. So the conclusion must be that the Record Car can't have been the primary car Villeneuve used in 1994 at Indy. It must have been a backup car for the team. (photo HG)
So if the 94I/004 was indeed supplied to Forsythe-Green as the chassis plate suggests, then in May 1994 it must have been the backup car entered as 12T.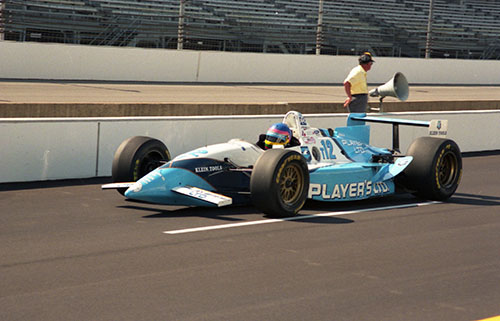 Photo taken on Friday May 13 (!), the day before Pole Day. Jacques Villeneuve on his way in the pit lane for some practice laps with his backup car, indicated by the T in front of the 12. (photo HG)
So far, that allows for the possibility that the true identity of the Record Car is 94I/004.
Elsewhere on the Internet, I found more clues regarding the Record Car's identity. Engineering the car in 1996 was Tim Wardrop. Using an alias he posted some details about 1996 and the Record Car and answered a few questions.
In short: Wardrop said that the Record Car was Jacques Villeneuve's 1995 backup car which he crashed in practice (which indeed happened) but the car may have been of 1994 origin. Wardrop stated that the car eventually went to the Museum. According to Wardrop, the 94I and 95I were identical, but that is not entirely true. According to the 1995 Autocourse CART annual there were some developments on the 95I based on experience with the 94I. However, there were no big differences between the cars' tubs.
Personally I had some doubts about Team Green entering a single 95I and a 94I for backup. I won't be surprised if eventually it turns out that Jacques crashed another 95I in 1995 and that this 94I-004 wasn't around at the Speedway in 1995. But for the time being I had to accept Tim Wardrop's story.
In addition, I obtained a list of the chassis numbers belonging to the start numbers as they appear on the entry list. I received this list from a friend in England who in turn got it from someone at the Speedway. The type of car wasn't listed, however, and the list appears to be incomplete as well.
Car #5 was listed as having chassis number 8, and that definitely doesn't comply with the 004 on the plate on the Record Car. (So that could have been Reynard 95I-008?) But the list I got also had data for a #35, the number with which the Treadway backup car was entered. That was listed as carrying chassis number 4. Despite the missing type registration that 4 does match with the 94I-004 tag that I saw on the car in the museum.
Conclusive evidence? Not really, and I instantly admit as such. But for a long time I felt that, everything combined, it was the strongest possible evidence for the the all-time Record Car at Indy being Reynard 94I-004 since I simply didn't know of any better evidence proving that it was one of the 13 other 94Is or the 22, maybe 23 unidentified 95Is. The weakness in this theory was of course the unconfirmed 1995 history.
The first draft of this article had already gone to the 8W editor but the story had been put on hold for a while. Fortunately so! While working on another story for 8W I all of a sudden found the missing clues regarding the 1995 history of Reynard 94I-004.
Working my way through the daily trackside reports of 1995, the trackside report dated May 17, 1995 was listing a lineage of older cars attemping to make the field. Mentioned of the #64 Van Dyne/NoTouch/Marcelo/JamesDean 1994 Reynard-Ford Cosworth XB (driven by Johnny Parsons) was that this was Jacques Villeneuve's backup car he drove for 39 laps in 1994, with a fastest recorded speed of 219.138 on May 23. The entrant of the car was Project Indy LP, and in the entry lists that car was indeed listed as a Reynard 94I.
Suddenly, a comment that appears in the 1996 day-by-day reports makes even more sense, filling in the missing details. The 1996 post-qualifying reports of May 12 contain a comment by Fred Treadway, owner of the car qualified by Luyendijk, saying that he was involved with Project Indy, the team that entered the Reynard 94I-004 for Parsons. How easy would it be to assume that Treadway, having decided to field his own team for 1996, took at least one of the cars fielded by the team with which he was associated the year before? If not both, since according to the entry list Project Indy also entered a backup car in 1995, the 64T, which was said to be another 94I. In the list of cars that were driven on the track that year 64T is missing. But did it exist? And if so, was that perhaps a 94I as well, instead of a 95I? And were both Treadway cars in 1996 94Is instead of 1995-origin 95Is as the yearbooks and entry lists suggest?
Anyway, because of this I am 99.99% sure that Tim Wardrop's comments about the Record Car in 1995 are incorrect. His story about the car in 1994, however, remains standing tall.
By now I'm able to fill in the Indy history of the Record Car:
1994: Team Forsythe-Green Players backup car, numbered #12T for Jacques Villeneuve. Practiced on two days in the first week of practice but was not raced.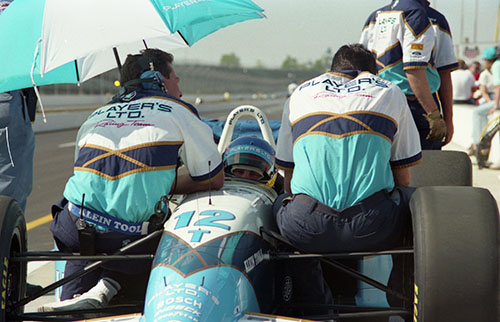 Another shot of Villeneuve's 1994 backup car in the pit lane, also taken on Friday May 13. Villeneuve was destined to gain fame and earn quite a reputation at the Speedway in both 1994 and 1995 but with other (sister) cars than this one. The glory days of this particular chassis were yet to come. (photo HG)
1995: Entered by Project Indy LP as #64 Van Dyne/NoTouch/Marcelo/JamesDean, driven by Johnny Parsons, but not qualified for the race, since one detail Wardrop told about 'his' Record Car was indeed true: it had a crash in 1995.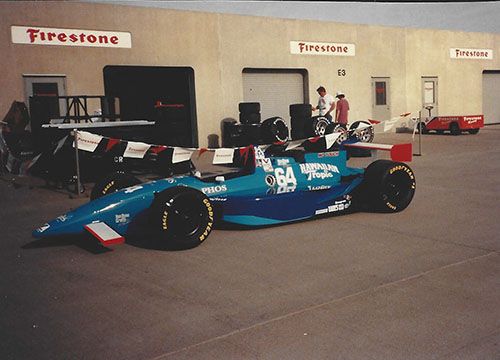 The 94I-004 seen in 1995 in the garage area. (photo Michael Weinbrecht, used with permission)
Parsons had a crash with the car on Saturday, May 20, the third qualifying day. It happened at 9:25, coming out of Turn One. Parsons hit the wall first with the right side of the car, bounced off the wall and after a slide hit the wall again with the left side of the car. The car was listed as having right-front and left-side damage. After a lot of work the car was repaired in time so Parsons could drive it the next day, but he made no more attempt to qualify.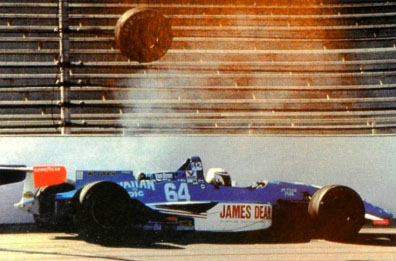 Parsons' crash. I found this picture on a website that offered the car's original nose cone for sale. I couldn't find any copyrights or other credits for the picture but it could well be an IMS Photos image.
A remarkable detail about the car is that in its first two years at the track it was nowhere near the top half of all car-and-driver combinations appearing at the track in these years and never give the slightest hint of what it eventually was capable of in 1996. Tim Wardrop definitely did miracles with the car when he prepared it for Arie in 1996. As for what kind of miracles, he gave a few of these tricks away.
Some of Reynard 94I-004's secrets in May 1996
OK, let's assume from now on that the identity of the Record Car is indeed Reynard 94I/004.
One of the secrets behind the blazing speeds of which 94I/004 was capable was related to the driver. In his heyday, Arie Luyendijk was among the best drivers of the era at Indy. During the eighties, when he had a March, he was always among the fastest with March chassis. When he had a Lola then he was one of the fastest with a Lola.
What's better than to illustrate Arie' s qualities by fact and a story?
On Pole day in 1991, Roger Penske went even as far as waving off Emerson Fittipaldi his first qualifying attempt when the Brazilian was slower than pole sitter Rick Mears (Penske's other driver), as he still wanted to have a shot for the pole later in the day, just in case three other contenders would beat Mears later on in the afternoon. Those contenders were the two Menard-entered Lola-Buicks of Kevin Cogan and Gary Bettenhausen, and Arie Luyendijk in the Vince Granatelli Racing Lola-Chevy. This often forgotten first occasion when Roger aborted Fittipaldi's qualifying attempt didn't cost Emmo as much as on the better known second occasion. That second occasion was the aborted attempt on the third day of qualifying in 1995 with the Team Rahal backup car, which would have been fast enough to qualify for the race had it been finished. In 1991 Roger's call was to cost Emmo 'only' a starting spot in the first four rows of the field, since high up in the grandstands a monumental cloudburst could be seen rushing towards the Speedway while Fittipaldi made his laps, serious enough to end all qualifying that afternoon.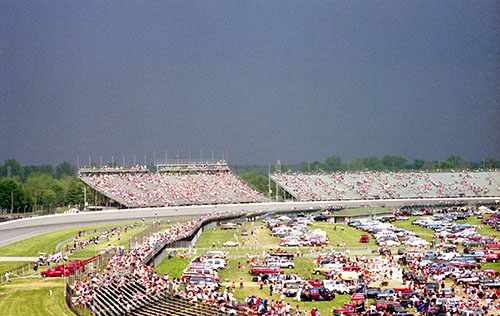 Sitting high up in Turn Four you could see this cloudburst heading for the Speedway at the time Emerson Fittipaldi made a qualifying attempt. On pit lane you couldn't see that coming up, otherwise Roger Penske may well have made a different decision regarding Emmo' s qualifying attempt. (photo HG)
Arie and the Menard drivers were among the victims of this cloudburst, but poor judgement by Roger Penske was to cost Emerson too. When the rain fell almost minutes after Fittipaldi had entered the pit lane it did indeed end all further action for the day, securing the pole for Rick Mears. However, the fact that his second car wasn't in the field yet was partly due to Roger Penske's fear of losing pole to Arie Luyendijk.
Arie had a reputation of being capable of running less rear wing than most other drivers. It has been stated that Arie's team mates found his set-up difficult to drive.
In an interview with Arie, published in a Dutch magazine in the summer of 2010, he said that on the 1996 car he used so little rear wing that to be able to run even less rear wing his engineer suggested they take off the rear wing. This wasn't done since Arie felt this was too risky.
Arie has stated that the Record Car has been the best handling car he ever drove at the Speedway. He went as far as saying that it had been easier to drive at those speeds than it was driving other cars as fast as he could while not even coming close to what he had achieved with the Record Car.
Tim Wardrop shared some of the secrets of why the cars he engineered were so fast. I think it is fitting to reproduce his quotes here. Uncorrected for typos, these are the words as posted by Wardrop:
"If the chassis is working well, the average lap speed is between 4 and 6 mph lower than the average trap speeds entering turns 1 and 3. This is a very close 'rule of thumb' which try's to take out the effect of the wind direction. Because of V2 (you will loose more speed heading into a head wind than you gain with a tail wind) this 2 mph window is close approximation).
"With the 1995 Menard motor (1050 observed h.p, i was at the dyno test) The trap speeds were in the region of 240 mph average of both ends of the track. This resulted in lap speeds of approx lap speeds of 234 mph for Scott and Arie. On pole day, these speeds where reduced by approx 3 mph becuse of the high dew point which killed the h.p."
I removed one line here since it is related to an entirely different story, but after that Wardrop continues:
"Arie's Cosworth in 1996 produced 950 observed hp at the legal boost limit, but because of the lower CD of the Reynard, a "healthy" pop off valve and chassis set-up, this resulted in a lap speed of 239 + mph lap speed.
"Arie's trap speed on that lap was 243 mph into turn 1 and 247 mph in to turn 3 (had a tow from robbie unser between T2 and T3), lowest speed in T3 was 237 mph!
"The secret to Arie running less rear wing than anybody else was in the skids and ballast. A lot of teams would use brass as skids to get the C of G low, problaem is that brass is real soft and drags the speed down when it touches and also genarates a lot of heat when it touches, A J literally burnt his ass finding this out!
"My solution was to use a copper/nickle alloy for skid material, same as they make British pound coins from, hard, dense and durable but expensive, but you could run the car lower as it did not bog the car down if it touched, used it with Scott Goodyear and Robbie Gordon at Walker and then Arie and Scott B at menards.
"A 1/4" thick stainless puke tank in the left rear sidepod did the rest, about 140 lbs total ballast but just where i wanted it to be.
"In 1996,Arie was crusing around in 2nd place untill Salaza ran into him leaving the pits. If not for that incident, who know's. I had geared Arie to run 238+."
In this discussion, Wardrop was informed about Arie's comments in the 2010 Dutch magazine article about taking off the rear wing. His reaction on that was:
"I did not suggest we run the car with no rear wing, may have joked about it but way to risky and trying to rebalance would also be an issue, but I did have a trick rear wing that i reckon was worth 2 m.p.h. Decided not to use it as we had the field covered and play it safe."
On this particular website, Wardrop was regularly teased with telling more about the many secrets he knew. Regrettably, this character of a man died in late 2012 after a long illness.
As a tribute, I left Wardrop's comments unedited, other than removing the one line, since these are the words Tim used when he wrote about this moment of glory for him.
Tim had the satisfaction to never see 'his' record broken. There is always talk about Luyendijk's records but they are Wardrop's records too.
Time will tell whether the regulations eventually will permit an all-out attack on the all-time track records, causing the Reynard 941I-004 to lose its current enviable status among Indycars. The issue of changing the rules so the cars could reach (and break) the speed record was raised in 2014 as another way to create more interest in Indycar racing and have something to look forward to for the 100th race, to be held in 2016.
But even if that would happen, Reynard 94I-004 will live on as the car that held the absolute practice and qualifying records for the longest period of time in the history of the Indianapolis Motor Speedway. Its near permanent place of honour in Indianapolis Motor Speedway history as well as the Speedway museum's collection is all but assured.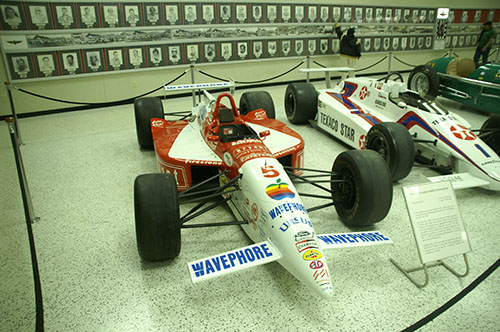 Another shot of the Record Car on display in June 2013. (photo HG)
Footnote 1
As for the number of Reynards at Indy in 1996, I must make a correction on the numbers I mentioned. I stated that I figured out there were at least 14 Reynards (2 94Is and 12 95Is) at Indy in 1996. I still can find 'only' 14 Reynards but with car #35 identified as 94I-004 instead of an unspecified 95I the score for Reynards entered and practiced at the track must be that at least three of those were 94Is and at best 11 of those were 95Is.
Footnote 2
Reynard 94I-004 had a history before 1996 but wrote more history in 1996. Given the fact that there were no new cars at the Speedway that year, every car at the track that year had a history to tell.
I already mentioned the oldest car entered, the Loop Hole Racing Lola-Buick T91/00.
Even back in 1991 it had been a white raven among the many Lola T91/00s. According to Loop Hole Racing the car had been the Alfa Romeo-powered car driven by Danny Sullivan in the 1991 race. After Alfacorse/Patrick Racing folded it was sold off. As to whom and what happened with it I don't dare make any comments.
Loop Hole stated they obtained the car from Leader Cards Racing in 1994. The car had even been used in the Pikes Peak Hill climb! (How high can you go? Or is it more a matter of how low can an Indycar tub go?) But it was back at the Speedway in another attempt to qualify for the 500.
If Loop Hole's information was right the car in question must have been Lola T91/00-17, using the 1991 Hungness yearbook for its identification. The list of chassis numbers I used for this does indeed list the chassis number of car #36 as being 17.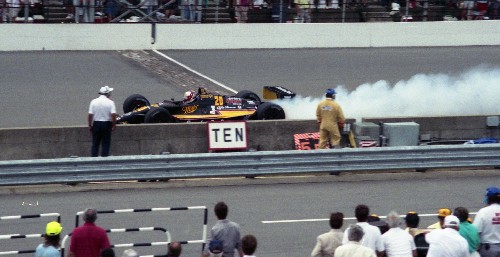 Lola-Alfa Romeo T91/00-17, driven by Danny Sullivan, crossing the finishing line for the last time in the 1991 race, having completed 173 laps. The smoke cloud was credited to a turbo failure, yet Sullivan was still classified 10th. (photo HG)
Still, while not doubting the good will of the people at Loophole Racing, I can't help but have difficulties with believing their explanation entirely. They could of course be right, but it's also very likely that they are mistaken, however unintentional.
In another project I did research on the March chassis and to a lesser extent the Lola chassis used with Alfa Romeo engines. I could find traces of some of the Patrick-Alfa Lolas in later years but there are a few details that don't entirely fit.
Focussing on the Marches, I found to my great surprise that chassis plates were switched around and even used on cars of a different type! Did all this messing about with chassis plates happen in Italy or did this already happen in the US? In case of the latter we may have doubts whether the chassis plate originally belonged to that car.
The lesson I learned about the Alfa-powered cars of the years 1988 to 1991 (being the March 88C 'muletta', March 89CE and 90CA, Lola T90/00 and T91/00) is not to believe what you see on the chassis plate, except for one of the 90CAs of which I know it is indeed carrying the right chassis plate. Simple and straightforward stories about the history of a former Alfacorse Indycar can be doubted without hesitation, with even the most unlogical story possibly being closer to the truth.
Loop Hole Racing's car may have been the real car driven by Sullivan in 1991, but the chassis plate could have been switched just as easy. I have stopped excluding any possibility when dealing with former Alfacorse Indycars.
Regrettably, the story about Loop Hole Racing's Buick-powered T91/00 had anything but a happy ending. Driven by rookie driver Dan Drinnan, the car had a massive crash on May 18 (the third day of qualifying) in which the car was said to be 'destroyed'. Drinnan did survive but was seriously injured.
What a difference compared to the story of Reynard 94I-004.
Appendix 1. Track record
The track record at the Indianapolis Motor Speedway for Reynard 94I-004 is as follows:
date
#
driver
laps
speed
ranking
cars and drivers on track
May 10, '94
12T
Jacques Villeneuve
21
217.113
33
43
May 13, '94
12T
Jacques Villeneuve
18
219.138
37
48
May 8, '95
64
Johnny Parsons
6
190.887
44
44
May 9, '95
64
Johnny Parsons
42
213.944
36
41
May 10, '95
64
Johnny Parsons
6
215.957
25
33
May 11, '95
64
Johnny Parsons
43
221.337
38
47
May 12, '95
64
Johnny Parsons
31
225.393
38
55
May 13, '95
64
Johnny Parsons
17
222.173
33
42
May 14, '95
64
Johnny Parsons
44
224.629
16
40
QA waved off after 2 laps
(Fastest lap:222.189 )
May 16, '95
64
Johnny Parsons
9
222.124
12
21
May 18, '95
64
Johnny Parsons
12
221.136
11
24
May 19, '95
64
Johnny Parsons
71
223.403
28
43
May 20, '95
64
Johnny Parsons
10
220.642
26
29
May 21, '95
64
Johnny Parsons
52
222.386
17
34
May 9, '96
35
Arie Luyendijk
18
237.774
1
33
May 10, '96
35
Arie Luyendijk
30
239.260
1
29
May 11, '96
5
Arie Luyendijk
23
234.742
2
32
Car renumbered. QA1 declared illegal
(Fastest lap 234.742)
May 12, '96
5
Arie Luyendijk
18
237.567
1
16
QA2 ONE-LAP TRACK RECORD 237.498
May 19, '96
5
Arie Luyendijk
19
233.633
1
24
May 23, '96
5
Arie Luyendijk
11
228.380
5
32
May 26, '96
5
Arie Luyendijk
149
232.931
4
32
Race: started 20th finished 16th
Month of May performance history - by best speed:
| | | | | | | |
| --- | --- | --- | --- | --- | --- | --- |
| year | # | driver | laps | speed | ranking | car and drivers on track |
| 1994 | 12T | Jacques Villeneuve | 39 | 219.138 | 82 | 111 |
| 1995 | 64 | Johnny Parsons | 343 | 225.393 | 63 | 99 |
| 1996 | 35/5 | Arie Luyendijk | 112 | 239.260 | 1 | 67 |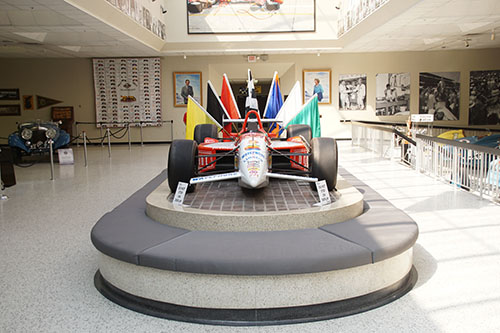 The Record Car dead in the middle (center stage) of the IMS museum, photographed September 2014. (photo HG)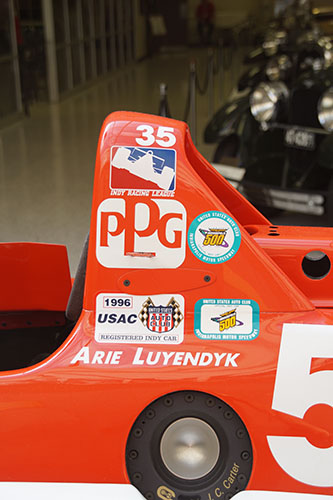 The 35 on the roll hoop confirms the car starting out the month as the backup car before rising to stardom. (photo HG)
Project Indy fielded 94I-004 in several races during the 1995 CART season, with several drivers behind the wheel. For the record, this is how 94I-004's 1995 CART career looks:
| | | | | | | |
| --- | --- | --- | --- | --- | --- | --- |
| event | track | driver | started | q-time | fin/laps | |
| 2 | Surfers Paradise | Buddy Lazier | 24 | 1:40:250 | 21/32 | Transmission |
| 4 | Long Beach | Franck Freon | 26 | 0:54:714 | 15/103 | Running |
| 6 | Indianapolis | Johnny Parsons | DNQ | | | |
| 8 | Detroit | Christian Danner | 23 | 1:12:218 | 22/35 | Accident |
| 10 | Road America | Hubert Stromberger | 27 | 1:48:752 | 16/49 | Running |
| 11 | Toronto | Buddy Lazier | 27 | 1:01:925 | 15/93 | Running |
| 12 | Cleveland | Hubert Stromberger | Withdrawn | | | |
| 14 | Mid Ohio | Hubert Stromberger | DNQ | | | |
| 16 | Vancouver | Mimmo Schiattarella | 28 | 0:58:081 | 18/93 | Running |
| 17 | Laguna Seca | Mimmo Schiattarella | 25 | 1:13:015 | 21/81 | Running |
Here's a photo of Hubert Stromberger in Reynard 94I-004 at Mid-Ohio, made by Mark Windecker.
Appendix 2. Bibliography
Indianapolis 500 1994 media fact book
Indianapolis 500 1995 media fact book
Indianapolis 500 1994 Official Program
Indianapolis 500 1995 Official Program
Indianapolis 500 1996 Official Program
Indianapolis Motor Speedway 1994 Day-by-Day Trackside report for the Media. I used the pocket-size spiral-bound version released during May 1995.
Indianapolis Motor Speedway 1995 Day-by-Day Trackside report for the Media. I used the pocket-size, spiral-bound version released during May 1996.
Indianapolis Motor Speedway 1996 Day-by-Day Trackside report for the Media. I used prints of the webpages provided in May 1996.
Carl Hungness Indianapolis 500 Yearbook 1994
Carl Hungness Indianapolis 500 Yearbook 1995
Carl Hungness Indianapolis 500 Yearbook 1996
Indy Review Volume 4: 1994
Indy Review Volume 5: 1995
Indy Review Volume 6: 1996
Autocourse Indy Car Official Yearbook 1995-96, Hazleton Publishing Ltd, Richmond, Surrey, England, ISBN 1-874557-51-9
Information was also gathered from the thread Straight line speeds at Indy as it appeared in the Camking's tech talk section at Trackforum.com.
Special thanks to Michael Weinbrecht for providing some of the pictures of the car as it looked in 1995.