The Eastern European pioneer
Author
Date
Related articles
Who?

Csaba Kesjár

What?

Zakspeed 871

Where?

Hungaroring

When?

1987 Hungarian GP (August 9, 1987)


Why?
Csaba Kesjár, or Kesjár Csaba as he was called in Hungarian (in Hungary the family name goes ahead of the given name), was born on 9 February 1962 in Budapest. A son of one of the most prominent Hungarian drivers, János Kesjár Sr, a 15-time Hungarian champion in various categories, and a grandson of yet another racing driver, Csaba was well orientated when he also decided on a career in motor racing.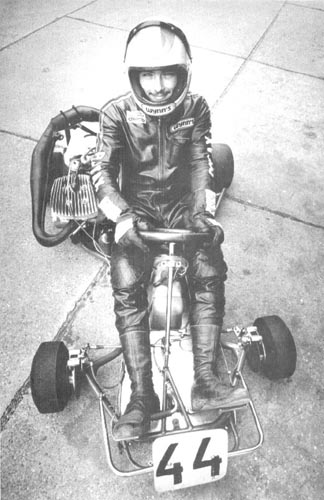 Csaba in his karting days.
He started racing karts in the mid-seventies, with his father acting as his mechanic and manager. And with success - Csaba was the Hungarian karting champion in the Junior category in 1977. Since then, Csaba Kesjár didn't stop winning. Next year, he won the 3rd division karting title, followed up in 1979 by the 2nd division title and finally in 1980 the main Hungarian title. He took the same title the following year before giving up karting at 20 years of age, deciding to jump to single seaters. Meanwhile, he studied at Bánki Donát technical college in Budapest.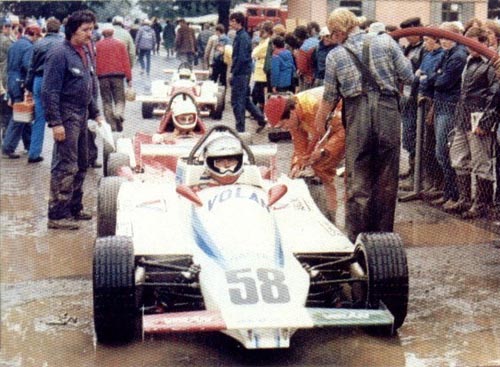 Formula Eastern... a different look compared to Western Europe.
With the same familiar team, he started racing in Formula Eastern, the main single-seater competition behind the Iron Curtain. His abilities were impressive and he became champion as a rookie in 1982. This was only the start for an era of domination by Csaba Kesjár. He "only" won the national championship between 1982 and 1985, but in 1983 he also won a race in Albena, counting for the Cup for Peace and Friendship. He performed very well driving his MTX 1-06, although he only won after Alexander Medvetschenko from the USSR and Jiri Cerva from Czechoslovakia were disqualified for using a 1400cc engine instead of the 1300cc the rules stipulated. It is thought similar procedures were common (and sometimes allowed) with Soviet teams, maybe because of the USSR being the dominant country behind the Iron curtain.

After these successful years in Hungary, Kesjár was offered to race in Austria. With such a palmares and some sponsorship, he signed for Walter Lechner Racing to compete in the Austrian F Ford Championship, driving a Reynard. It didn't take too much time for him to prove his talent and he won the championship in his first year.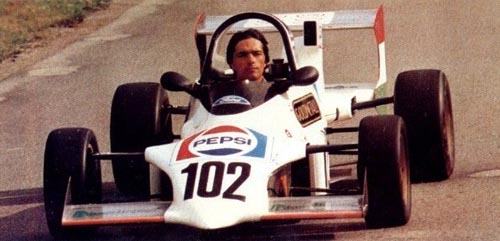 Formula Ford.
The result was quite simple and at the same time quite sensational for a driver from Eastern Europe: Horst Schübel signed Kesjár to partner young German promise Bernd Schneider in his top German F3 team. F3 was harder than F Ford and Csaba was adapting himself to the rhythm. Driving his Dallara-Volkswagen 387, Kesjár finished the championship in 14th place, having scored 12 points, his best result a 4th place. He also won a non-championship race at Hockenheim. A good result for a rookie. Schübel agreed and signed him for a second year.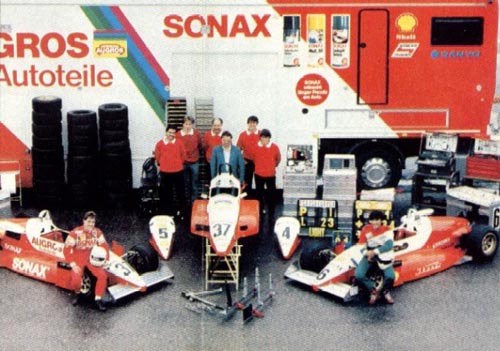 Horst Schübel's team in 1987: Kesjár and Schneider.
But at the end of 1987 Kesjár was already a pioneer, becoming the first Hungarian to sit in a Formula 1 car. This outstanding opportunity came at the Hungarian GP when Zakspeed owner Erich Zakowski invited Csaba to drive one of his cars. Kesjár literally sat in the car after Friday practice but since cars are not allowed to leave the pit lane between official practice sessions he didn't get to drive. His opportunity came three hours after the race, when he drove three demonstration laps around the Hungaroring. Zakowski ordered him not to go above third gear to avoid any accidents. Kesjár performed his task with honour although he almost lost the car at the first turn – he didn't know F1 cars' brakes don't work well when cold...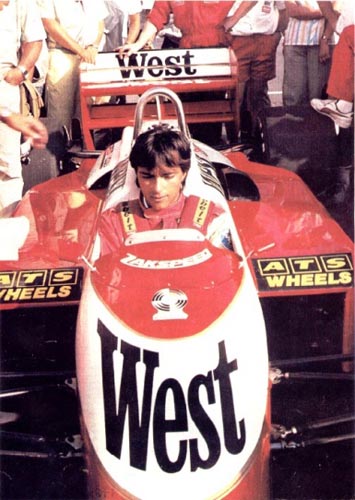 F1 driver for a day.
1988 started off very promisingly, as Csaba was eager to show his talent once again. At the midpoint of the season he had already scored 33 points when he arrived for the Norisring weekend. At the end of the second Friday practice Csaba went past the finish line at 200 kph to go for it one last time. Approaching the narrow Dutzendteich hairpin, his Dallara-Volkswagen 388 simply went straight on, hitting two tyre barriers before landing upside down in the woods. Csaba Kesjár suffered massive head injuries and died on the spot.

Years later, in a TV interview, his father claimed Csaba's car had been manipulated and also that he had been decapitated by the Armco barriers. Kesjár was really popular amongst his F3 colleagues so the race was cancelled on the instigation of the drivers, in spite of sponsors' pressure.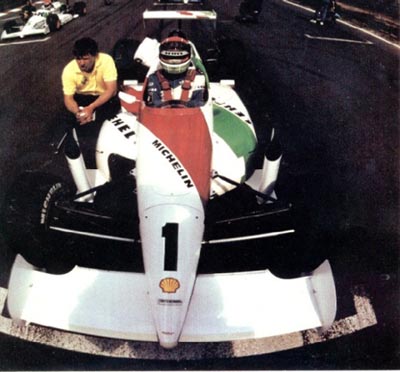 The 1988 Dallara.
But what really happened? The official crash report concluded that his Dallara had suffered brake failure. As Csaba was at full speed and hadn't tried to change the car's direction, it was rumoured that he had had a blackout while driving or even committed suicide! To feed these rumours, there were stories saying he was quite unwilling to drive that sad weekend, almost being "forced" to do so, leading to comments about illnesses like epilepsy, but nothing has been proven. The absolute truth will probably never be known but it is said that the car really suffered a brake failure, with the brake pedal actually having been split in two by Csaba's desperate efforts to stop his car.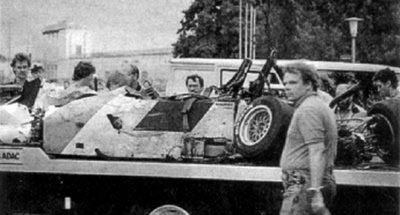 The remains of his car.
Csaba Kesjár was a pioneer. He may not have reached F1, as his teammate Bernd Schneider did – with Zakspeed, ironically – but he showed the way to many other youngsters behind the Iron Curtain, eventually leading to the arrival of Grand Prix drivers such as Baumgartner, Enge and Kubica.
Csaba Kesjár's career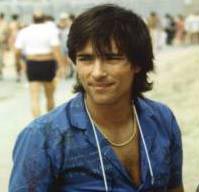 1975 – 1981 Raced successfully in karts, winning multiple national titles.
1982 – Hungarian Formula Easter; Champion.
1983 – Hungarian Formula Easter; Champion. Cup for Peace and Friendship (MTX 1-06); 8th, 139 pts, 1 win.
1984 – Hungarian Formula Easter; Champion.
1985 – Hungarian Formula Easter; Champion. Overall Hungarian Champion.
1986 – Austrian F.Ford (Walter Lechner Reynard), Champion. Hungarian Hillclimb Champion.
1987 – German F3 (Horst Schübel Rennsport Dallara-VW 387); 14th, 12 pts. Won a non-championship race at Hockenheim. Tested a Zakspeed F1 after the Hungarian GP.
1988 – German F3 (Horst Schübel Rennsport Dallara-VW 388); 19th, 33 pts. Died in a crash at the Norisring F3 race. Officially, the brakes failed in the second practice session and he hit the tyre barrier full speed, dying on the spot.
Sources
Rombo; 28th June 1988.
Atlas F1 Nostalgia Forum, Speed's Ultimate Price: The Toll thread, page 20, posting by Geza Sury.
Formel 3 Guide, by Wolfgang Neumayer, Jahrgänge 1950-2002, 1988 Ergebnisse im Detail, pages 27 and 28.
Puru's & Franz Page - Automobilrennsport Pokal für Frieden und Freundschaft 1983 und andere Automobilrennen in Osteuropa.
Motoring News; 29th June 1988.
Motorsport Memorial, by "The Motorsport Memorial Team", Csaba Kesjar.
Atlas F1 Nostalgia Forum, Csaba Kesjar thread.
.
Continental Circus, by "Speeder_76", Historieta da Formula 1 – Csaba Kesjar na Zakspeed.
Wikipedia, Kesjár Csaba (accessed 7 July 2009).
F1 Nostalgia, by Rianov Albinov, O que vocę esta fazendo ai?: Csaba Kesjár na Zakspeed.
Lazapipa, Csabi Pécs.
With thanks to Gegely Vajay.