The Questor Grand Prix
Author
Date
8W Special, September 27, 2000
Related articles
Who?

Pedro Rodriguez

What?

BRM P160

Where?

Ontario Speedway

When?

1971 Questor GP
Why?
Almost thirty years too soon... The recent US GP at IMS showed what a great sight modern Grand Prix cars attacking an oval banking can be. In 1971, the Questor GP had been a hit with the drivers and the spectators but still there was no follow-up. The same applies to the oval experience of the year 2000, having just been witness to the Grand Prix with the biggest audience ever - are you sure that was a US Grand Prix? What contrast with the 1991 edition at Phoenix where they had more people sitting in the pits than in the grandstands. With people numbers at a staggering 250,000 and a Ferrari winning the inaugural event, it is certain that F1 has finally found its American home. After so many misses we got a fairytale ending.



It is now currently accepted in Formula One that finances and politics influence locations of Grands Prix. Think of the sterile facility of Magny-Cours replacing the popular Paul Ricard, or the charisma of Adelaide losing out to Melbourne. However, in the early seventies a bid was placed by a Californian Speedway to purchase the American Grand Prix for themselves.



Built in 1970, the Ontario Speedway cost a remarkable US$25.5 million, built by the Questor company, a US conglomerate. The track was 3.21 miles in length, following the standard USAC oval configuration, with a road circuit section infield. Seating was provided for some 140,000 spectators (both infield and in grandstands), and the track was situated some 40 miles from Los Angeles.

In these times it was standard for a proposed Grand Prix venue to hold a non-Championship race the year before the intended championship event. The Questor group put up a prize fund of $278,400, which raised interest, and also decided to boost spectator interest by opening up the competition to American Formula A cars. Formula A was a 5-litre class not unlike Formula 5000. The 1971 Questor Grand Prix promised to be an exciting event.

Unfortunately, the only date available, March 28th, clashed with both Formula One's traditional pre-season Race of Champions at Brands Hatch, and also the USAC round at Phoenix. Despite this, the entry was very good.

Scuderia Ferrari sent Mario Andretti, at the time primarily known as an USAC driver, and the Belgian Jacky Ickx to Ontario, both driving the 312B models with which Andretti had already won the South African Grand Prix in that year. The team's other regular driver, Clay Regazzoni, had been dispatched to the Race of Champions.

Yardley BRM sent a three-car team, as usual believing in strength in numbers. Pedro Rodriguez was the only driver in the squad the have previously driven the new P160, although a brand new example was provided for Jo Siffert. Howden Ganley was still in the old P153.

Gold Leaf Team Lotus were widely tipped to run the new 56B turbine car in the event, but after its disheartening debut at Brands Hatch the week before, the choice was left in the hands of lead driver Emerson Fittipaldi, who opted for the more conventional Lotus 72. Reine Wisell was also despatched by the Hethel outfit, also running a 72, this time with Cosworth's brand new Series 11 variant of the ubiquitious DFV.

McLaren Motor Racing sent a two-car team, with an M19 for Denny Hulme, and an old M14A for Peter Gethin. Matra Sports entered just Chris Amon, in a single MS120B, with a year-old engine in the back. Motor Racing Developments wheeled out the famous lobster-claw BT34 for Graham Hill, while Tim Schenken had to make do with the old BT33. Tyrell appeared with their original self-designed car, 001, but upgraded with the second series 11 Cosworth. STP March sent just Peterson after teething troubles with the new 711, withdrawing their other entry. A second 711 was on hand, though, Frank Williams Racing sending along Henri Pescarolo, as well as Derek Bell in an old March 701. An even older 701, as used by Chris Amon and Mario Andretti, was entered by STP for reigning Formula A Champion John Cannon. The planned Team Surtees entry of team owner John Surtees and Rolf Stommelen did not materialise. The final Formula One entry was Pete Lovely in an old Lotus 49B, but he arrived late.

The Formula A entry was a lot smaller. Lola's T192 F.A car made up a large amount of the entries present with new examples going to past champions Lou Sell and Tony Adamowicz, as well as a third being loaned to reigning USAC Champion Al Unser. The prototype T192 was loaned to the Penske team, who entered Mark Donohue in the car. Yet another T192 was run by Bob Bondurant, who had driven a handful of Grands Prix in 1965/'66. Charlie Hayes entered two of the older T190s which his team had modified extensively, and entered Bobby Unser, who was a respected USAC driver but had humiliated himself in his one try in Formula One with BRM, and Ron Gable. The team also entered Jack Byers in a non-modified T190 as a reserve driver. All were powered by Chevrolet V8 engines.

Two 1970-spec McLaren M10B cars were also there, one for Briton David Hobbs, who had driven in a couple of Grands Prix, and one for the great A.J. Foyt. Again Chevrolet V8s were used, but Hobbs was unfortunately entered late due to a mix-up and was only registered as a reserve. Two Surtees TS8 cars were on hand, one for Sam Posey, who would later drive in a pair of US Grand Prix for Surtees' works F1 team, and the other for Peter Revson, between his two spells in Formula One after an unsuccessful period with Reg Parnell's team in the mid-60s. The final Chevrolet-engined car was a little more unusual. Another past F.A. Champion, Gus Hutchinson, wasa driving the American ASD (Aero Structure Developments), moulded from unusual materials, and featuring a wing-mounted radiator and rising rate front suspension. Lotus' unsuccessful Type 70 had one entrant, George Follmer, later to dominate CanAm with Shadow, and get a year in the team's Grand Prix car, using a modified Boss Ford engine. The final Formula A entry was Swede Savage, a young American driver under the watchful eye of Dan Gurney, running a 1969 Eagle with a Plymouth V8 powerplant.
Full Entry List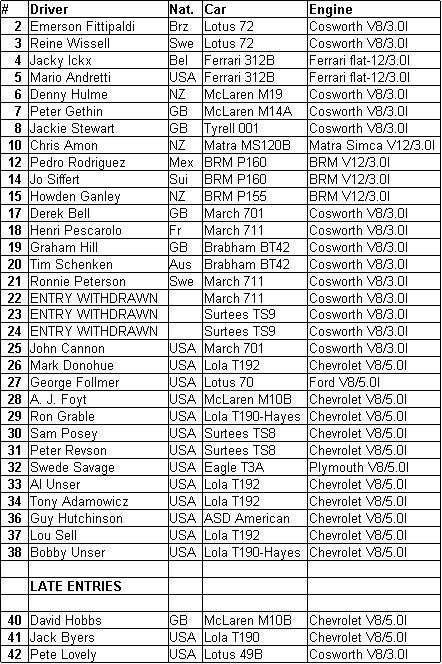 Three days of track familiarisation were allotted, the first, on Wednesday, was untimed with four hours allowed on the others. Only Ferrari and the Formula A boys were on hand on Wednesday, with Andretti managing to badly damage his Ferrari with an excursion from the track. The following day the rest of the Formula One teams arrived, and the speed picked up. However, Andretti, Foyt and the Unsers were all absent at the USAC event in Phoenix. Stewart led the list, lapping a 1m 43.143s, with Ickx timed at 1m 43.7s and Amon at 1m 43.919. Close behind were Hulme and Siffert, while Donohue was the only Formula A driver keeping on the pace. For the Friday, Stewart's car had the 11 series Cosworth replaced with an older unit, to preserve the new one for the race. He still improved, building up to a lap of 1m 41.777s. Jacky Ickx managed to shave seven tenths off his time, while Siffert and the Lotuses all closed into the 1m 42s. Amon struggled with mechanical problems in the lone Matra. Towards the end of the session things hotted up as the affable Kiwi got the car up to speed, and the USAC returnees also entered the fray again.

The current situation with the Indianapolis F1 circuit was visible, as although the Formula One cars were almost universally faster, several were suffering component failures due to the Speedway's banking, most notably the BRM P160, which was sufffering breakages of the rear suspension mounting located between the engine and the gearbox. Formula One cars monopolised the top 6, followed by the superb Donohue, with Follmer the only other Formula A car to break the top 10. Andretti made 12th with very little mileage, with Pescarolo just behind him, on a similarly limited mileage. The other three USAC drivers were looking distinctly unimpressive, having ambled back from the Phoenix race (although, unlike Andretti, they didn't have Formula One contracts to maintain), with Al Unser the best at 26th, brother Bobby a place behind, and Foyt 30th and last. Stewart borrowed the McLaren before Foyt arrived, and set a time good enough for 11th, despite very few laps in the car. However, most disappointed man was undoubtedly David Hobbs, who had registered 21st time, but was first reserve after his late entry. Lovely, who would have started ahead of the Unsers, and Byers, slowest of all, suffered similar fates.
Starting grid

Due to inadequate fuel tankage in the Formula A cars, the race was split up into two 32 laps, supported by various national events. The race was blessed with fine weather, but cursed with the Indycar-style rolling start, behind a Porsche pace car driven by actor James Garner, best known to Grand Prix fans as 1966 World Champion Pete Aron. The start was less than spectacular, although Ickx used every single prancing horse avalaible to nip past into the lead, ahead of Stewart, Amon, Hulme, Hill and Jo Siffert. The little Swiss spun on lap two though, and caused a hold up to all those behind as he tried to regain traction, and fell back to 12th. The group chasing the leaders was now fronted by Donohue, with Andretti, Rodriguez, Fittipaldi, Wisell and Pescarolo all swarming behind him. Stewart really had his work cut out for him in overtaking Ickx, and Hill was falling back from the lead battle, and towards the clutches of the flying Donohue. Denny Hulme made an uncharacteristic mistake, spinning his way down the field trying to get past compatriot Amon.

After 6 laps Foyt pulled into the pits and retired, complaining about his car's handling, while the second best Formula A driver, Follmer, went out with a large oil fire burning away on the back of his Lotus. Hill was the first of the significant Formula One runners to disappear, feeling his Cosworth tightening and deciding to call it a day. By quarter distance, or half of the first heat, the F.A. cars were dropping like flies. Savage had a bad shunt in the old Eagle, and was rushed to hospital with leg injuries, Bondurant and Al Unser both had Chevrolet failures, Revson's gearbox broke and Posey pulled up in a cloud of smoke with an overheated engine. Sewart managed to out-brake Ickx at last, and the Belgian pulled into the pits for a long stop to have a puncture remedied. The Scot now led comfortably from Amon, then came Andretti, who had managed to dispose of Donohue after a huge battle, then Siffert in 5th, Ickx, Fittipladi, Wisell, Schenken, Peterson, Cannon, Pescarolo and Ganley. Pedro Rodriguez had limped into the pits with suspension trouble, but was now lapping at very impressive speeds.

Pushed by Andretti, Amon began to catch Stewart, but then suffered a puncture and fell to tenth. Andretti began to close on Stewart, and Donohue was also looking very good. As Andretti passed Stewart on lap 29, to the roar of the 65,000-strong crowd, Donohue pulled into the pits with faulty fuel injection. Stewart was suffering from heat exhaustion, and as a result Andretti pulled away over last couple of laps. Siffert took a distant third, Hulme 4th and the delayed Ickx and Amon came next. Schenken ran out of fuel, but was seventh followed by Ganley, Donohue, Grable, Gethin, Bobby Unser, Bell and Sell. Pescarolo had retired late on with a fractured cross member, and Peterson with a shock absorber failure. Both Lotus cars stopped with engine trouble.
Heat One Results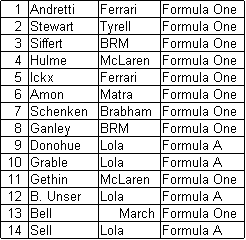 The order of the first heat determined the rolling grid for the second race, so Andretti started from pole, leading the 22 remaining cars. Foyt had been persuaded to rejoin, and Peterson would do so as well, admittedly after a further 17 laps had been ran.

Stewart just out-dragged Andretti into the lead of the second heat, followed by Jo Siffert, Ickx, Hulme, Amon and Donohue, still keeping up and far and away the most impressive Formula A driver. JYS really had the mammer down, finding himself 2s on Andretti after just a couple of laps. Pandemonium broke out when Ickx made a desperate lunge at Siffert, and departed the circuit, taking the Swiss driver with him. The latter was able to limp back to the track and continue at a much slower pace, while Ickx only lasted another lap before a puncture forced him to sheepishly exit. Donohue's reign in third was brief as his fuel injection finally died on him, and Foyt pulled out again. Andretti was having trouble getting his Firestones up to heat, but once he did he scythed into Stewart's lead. The Tyrell driver had broken his rear roll bar, and the resulting handling characteristics were causing him grief on the Ontario banking. It was all but over as far as the lead was concerned once the flying Italian-American caught Stewart, as the Scot believed that his handling problem would cause to much danger should he try and defend. As Andretti began to pull away, Stewart began to get to grips with his car, and was able to put up a sturdy defence against Amon. Siffert's supension finally fell to pieces, a legacy of the Ickx challenge, while his team-mate Rodriguez was tearing through the field, now picking off Hulme for fourth place.

Andretti overcame a down-on-power engine to take his second Ferrari win, while Stewart just led Amon and Rodriguez over the line, the Mexican taking fastest lap on his last tour of the circuit. Siffert managed to coax the BRM along for enough laps to be ranked 13th.
Heat Two Results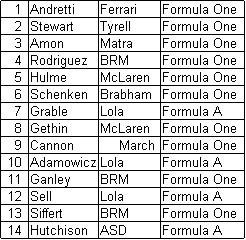 A bizarre points system, taking results in both heats, decided the results. Andretti took an overall victory by nearly 16 seconds, while only Hulme in third and fourth-placed Amon were unlapped. Hereafter results generally went to the finishers who made up the numbers in the two heats, with all three BRMs in the top ten. Grables' Lola was the only Formula A car to make the prize-winning group.
Final standings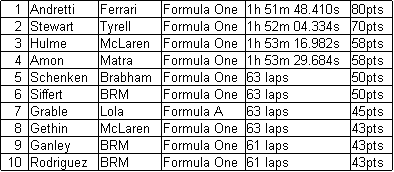 The race was popular with the crowd, if not the drivers, but the Questor Group ran into financial trouble, and the plans for a World Championship Grand Prix were never realized.