THE CHAMPIONS / Jochen Rindt
Fearless until the end
Author
Date
Related articles
Who?

Jochen Rindt

What?

Lotus-Cosworth 72C

Where?

Clermont-Ferrand

When?

LVI French GP (July 5, 1970)
Why?
The psychology is all too easy.

When analysing Karl Jochen Rindt's rise to an eventual posthumous World Championship it's not hard to trace all the ingredients that got him there – and got him killed. Being the most fearless and – according to some – most naturally gifted driver of his generation could indeed have clues in Rindt's youth, which lacked necessary attachment and grew into wealthy adolescence when he became entitled to the family fortune. Not being accountable to anyone or having anyone to care for, the enriched orphan could do whatever he pleased.

And so the young Austrian became a Grand Prix driver. Or is it that simple?

Born on August 18, 1942, in the German city of Mainz, Rindt was orphaned at the age of 15 months when an allied bombing raid on Hamburg in 1944 killed both his parents. Jochen was looking ahead to a desolate childhood in the barren wastes of war-struck Germany when he was taken under the care of his grandfather, Dr. Hugo Martinowitz, a solicitor in the Austrian city of Graz, from which Jochen's mother also hailed.

There, growing up in southern Austria, now detached from the violently crushed Nazi empire, Jochen became a ragged youth, not the least interested in school but instead pulling out all the stops in the name of self-centered hedonism. As a teenager, his competitive spirit already blossoming, he found himself attracted to all sorts of speed thrills, from mopeds to moto-cross bikes. He was terrific in other sports too, from football to skiing. The rebellious youngster found a soul mate in his school fellow Helmut Marko, who would also become a Grand Prix and sportscar star before entering his current role as Red Bull bigwig. Together they would do the stuff that renegade teens are feared for – scaring the hell out of the civilians doing their regular business on the twisty B-roads outside of Graz…

Being the brash 15-year-old that he was, he was sent to Chichester to learn English and discipline. Since Goodwood was a stone's throw away, it was inevitable that Jochen would be tempted to go and see the motor racing going on there.

The passion that had already raged at home in Graz was now further ignited and truly flared up when he came of age and got himself his own Simca Montlhéry. He could afford it through his inheritance, to which he finally got access at the age of 18. While the family money from the Klein & Rindt spice mill company had up until then been administered by his guardians, he was now free to spend it as he pleased. Although he did enroll at the Vienna Polytechnic for World Trade he much more cared for racing his Simca in scattered events, having finished third on his debut at Innsbruck.

At first sight, here was a wealthy amateur racing driver enjoying himself, first with his Simca before swapping to a Conrero-prepared Giulietta TI. With this, he humbled the E-Types with which he competed in the Aspern hillclimb for saloon cars. But at 21, a mere two years ahead of his F1 debut, a new Jochen Rindt emerged when he bought himself a single-seater. Things moved very quickly after that.

Setting up Ecurie Vienne with his friend Kurt Bardi-Barry, Jochen took over Kurt's old T59 while Kurt acquired a new Cooper T67. When the pair took their cars to Vallelunga to contest the first round of the Italian F Junior Championship, he stuck the T59 on pole. One week later, he proceeded to win the next race at Cesenatico. Rindt's name was on the bill. He then continued the season competing in selected FJ events, from the Eifelrennen (the German Championship's first round, in which he finished third) to the Monaco GP (from which he retired). Meanwhile, he had come to know Curt Lincoln from Finland, another wealthy amateur on the busy F Junior scene. Jochen was soon more interested in Lincoln's daughter Nina, however, an international fashion model who would later become Mrs Rindt. A few years later their daughter Natascha would be born.

Initially still being in it for fun, travelling across the continent in a Jaguar E-Type, he quickly picked up support from the ÖASC, the Austrian AA. While he was generally less lucky than team mate Bardi-Barry, who picked up several podium finishes during the season before being killed in a road accident in February 1964, Rindt stood out for his sheer speed. He also entered Kurt's T67 for the F1 Austrian GP, in which Bardi-Barry used Carel de Beaufort's other Porsche 718 (the 202). Obviously outpaced by Clark and Brabham, he matched F1 drivers Burgess and Seifert for speed until the FJ Cooper threw a con-rod on lap 21.

Ford Austria had seen the promise and decided to support him in 1964, the first year of the new 1-litre F2 era. The backing by Ford Motor Co (Austria) led Jochen into buying a brand-new Cosworth SCA-powered Brabham BT10. From now on he would be a professional racing driver, underlining his intentions by finishing fourth in the Eifelrennen, only giving way to Clark, Attwood and Spence.

He immediately set a pattern when he appeared at Mallory Park for the second round of the Autocar British F2 Championship to beat everyone bar the two Ron Harris Lotuses of Clark and Arundell. The next day, moving to Crystal Palace for round three, he squarely beat Graham Hill's Coombs Cooper T71. The fashion in which he did it got even more attention – and admiration – as his run to victory turned into a lap-by-lap demonstration of the maniac sideways style that would never leave his driving, hurling the car into corners with impossible speeds, his tyres always bordering on the edge of adhesion.

Also contesting the French championship, Rindt was less lucky at AVUS, Reims, Albi and Montlhéry, but he took third at the drivers' track of Clermont-Ferrand. Back in Britain, he was sixth at Brands but his clutch died on him at Oulton Park. Meanwhile, his early-season F2 exploits had gained him a Le Mans ride in the NART Ferrari, sharing with David Piper, but he didn't get to drive after the 250 LM's oil pipe burst, still on Piper's opening stint. On his second 250 LM appearance for NART, the following year, sharing with Masten Gregory and – as claimed by himself – Ed Hugus, Jochen immediately hit the jackpot, however, winning the famous 24 Hours in only his second try, bringing home the bacon for Maranello in their last-ever win at Le Mans. Was that wild and punchy young driver the same who just shone here through sheer grit and regularity?

A year after entering his first F1 race he was back at Zeltweg for the 1964 Austrian GP, now included in the World Championship. And instead of driving along in lower-category machinery, here he was, entered by Rob Walker in a pukka Brabham-BRM BT11 F1 car, just over a year after his single-seater debut and his first win. If there ever was a lightning career, this was it.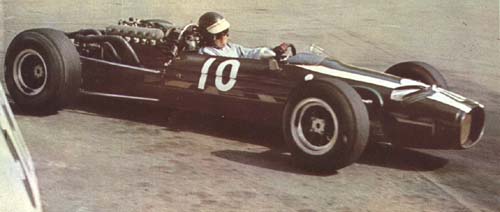 At Monaco in 1965.
In that first F1 race he didn't go far in the way of results, retiring with steering failure after 58 laps at the back of the field. But his startling F2 performances did get him a three-year F1 deal with Cooper, starting in 1965. In a season in which his T77 and back-up T73 were generally off the pace, Jochen did manage to score his first World Championship points, with 4th in Germany and 6th in the US. He concurrently signed a Formula 2 contract with Roy Winkelmann, becoming a team mate to Alan Rees and driving a Brabham-Cosworth BT16. After a slow start in Britain he took 3rd at Pau and Vallelunga and 4th at Crystal Palace before winning at Reims. There was more engine woe at Rouen but at Enna-Pergusa the Winkelmann cars finished one-two, Rees leading Rindt by 0.2s. At Albi came another 4th, hot on the heels of works Brabham drivers Brabham and Hulme, and of course the inevitable Jim Clark.

The 1965 Gold Cup was also the venue where 'Black Jack' first introduced the Brabham-Honda combo that would totally dominate F2 racing in 1966. Still, Rindt and his Winkelmann Brabham – when they didn't hit any trouble, which, sadly, happened quite a lot – were among the foremost that were to pick up the crumbs left behind by the Brabham-Hulme train. And when the Brabham works team elected to skip a race, such as the Eifelrennen, Rindt duly won. And in the season finale at Brands Hatch Rindt did not even let the presence of the tanned Aussie and his all-conquering Honda-powered BT21 get in the way of pole and victory in both their heat and the final.

In F1, the 3-litre rules had come into play, and while Jochen relished the power increase he was held back by the heavy and unwieldy Cooper cars he was forced to race. Heroic his performances may have been, such as at Spa in 1966, where he qualified and finished second, he was never a serious contender for victory. His excellent results did however deliver him third in the championship.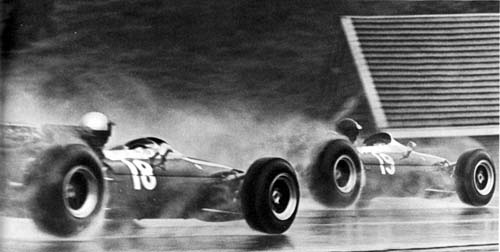 Richie Ginther chasing team mate Rindt at a very wet Spa in 1966.
The trend continued into 1967 when he hustled the T81B and T86 with their ancient Maserati powersource into several points placings. This was offset by an interesting debut outing in the Indy 500, qualifying the No.48 AAR Eagle-Weslake on the middle of the back row and retiring on lap 108. Jochen didn't have a lot of redeeming comments on offer for the Indianapolis track but he would return there with Jack Brabham and Colin Chapman. Another diversion was formed by sportscar outings in a Porsche 910, his best result 3rd place with Gerhard Mitter in the Monza 1000 kms.

It was in F2, again with Winkelmann, that Rindt showed his true worth. The formula had now changed to 1300-1600cc engines, paving the way for the Cosworth FVA. Having beat Brabham fair and square in the final race of 1966, Jochen would do it over and over again in 1967, winning in almost every race he competed in: Snetterton, Silverstone, Pau, the Nürburgring (Eifelrennen), Reims, Rouen, Tulln-Langenlebern, Brands Hatch and Hämeenlinna. A graded FIA driver by now, he was ineligible for points for the European Trophy for F2 Drivers but he stormed the RAC championship by almost double the points of Jacky Ickx.

It was no surprise that at the end of Rindt's three-year contract with Cooper, Jack Brabham snapped him up for his Grand Prix team. It looked like an excellent move, the Brabham team having won the previous two World Championships. But while Lotus was awaiting the arrival of the Cosworth DFV, Brabham's decision to stick with Repco and their new quad-cam engine proved to be ill-fated. Time and again the Australian V8 let them down, most miserably so in the French GP at Rouen, where Rindt took pole, only to be put out of the race by a fuel leak. Following Brabham to Indy, he was equally unlucky there. Nominated to drive the single Brabham-Repco he qualified 16th but was out by lap 5 with a broken piston.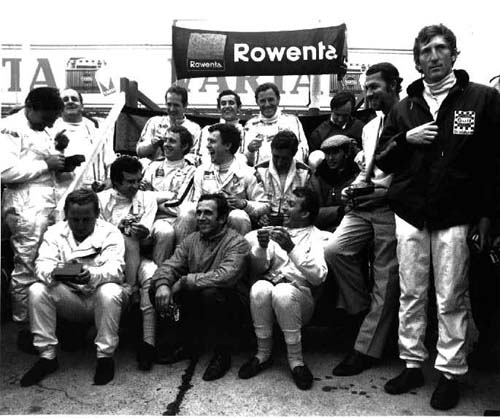 The class of 1968 are having a laugh in the Nürburgring paddock while Jochen ponders his luck.
Once more, there were happier times in the second-tier category, where Rindt went on to prove that he was indeed the King of F2. Continuing with Winkelmann, Jochen showed imperial form at Thruxton, Zolder, Crystal Palace, Hockenheim, Tulln-Langenlebern and Enna-Pergusa.

Having struck a great rapport with Brabham and Tauranac, Jochen wanted to stay at Brabham for 1969, as the team was about to ditch their Repcos for the now ubiquitous DFV. But then Colin Chapman made him an offer he couldn't refuse. Jochen's dilemma was obvious, and his manager Bernie Ecclestone told him so: with Brabham, you won't get killed but won't compete for wins either – at Lotus, you will race for wins but also run the risk of being killed. Remember that in four full seasons of Grand Prix racing Rindt was still to score that elusive first win. The true racing driver that he was, Jochen chose Lotus, although that big retainer did help as well…

The season took off well with two wins in the Tasman Series, while in F2 he made a similar switch from Brabham to Lotus, Roy Winkelmann electing to continue with the Lotus 59B. Again, Rindt proved to be almost unbeatable. His 1969 victory tally in F2 included Thruxton, Pau, Zolder, and the Vienna airfield race at Tulln-Langenlebern, which he could now almost call his own. Only at Vallelunga, the place of his first-ever single-seater pole position, he was beaten by team mate Graham Hill, who got one back for the defeat at Crystal Palace in 1964.

However, in F1's controversial 1969 season the infamous Lotus fragility soon reared its ugly head. This was not only the season of 4WD experiments, which Rindt detested, although he gave Chapman's 63 its best result by taking it to second in the non-championship Gold Cup race. Foremost it was the year in which the high wings disappeared as quickly as they had risen towards the heavens. And Rindt's mishap – and that of team mate Hill – was to be at the center of their immediate dismissal, as the two suffered massive consecutive accidents on the same spot at Montjuich, Rindt crashing into Hill's stricken Lotus after both cars had their wings fail. The CSI banned the contraptions forthwith, but the accident had left Jochen with serious injuries, especially in his face and legs. That meant that he was sidelined while Hill took his fifth Monaco victory.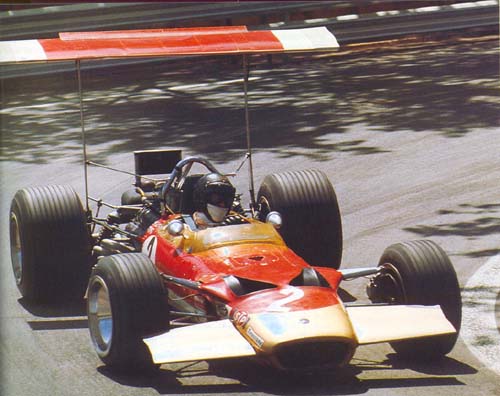 Still in the lead at Montjuich, in his high-winged 49.
He was back at Zandvoort, taking his third pole of the season but was unfortunate to drop out of the race while leading when his halfshaft broke. Still battered by the Montjuich accident he had to give up at Clermont-Ferrand but he was on pole yet again at Silverstone. Jochen led the race until lap 61 before hitting trouble. He eventually finished fourth, one lap down. Amazingly, those were the first three points of the season. Ignition failure stopped him in Germany before a second in Italy (after another pole) and third in Canada finally gave him some reward for his efforts.

Meanwhile he had teamed up in sportscars with Alex Soler-Roig, who would later become a part-time GP driver in his own right. The Spaniard was the son of the doctor who treated his Montjuich leg injuries, and the pair drove a Porsche 908/2 to glory in the Jarama 6 Hours. It was a rather more successful foray away from Grand Prix racing than the disaster that Lotus suffered at Indianapolis. As part of a three-car team with Hill and Andretti, Rindt was down to drive the turbine-powered STP Lotus 64 when a continuous steering problem caused the team to withdraw the cars, setting off an enormous row between Chapman and STP boss Andy Granatelli. Jochen had to sit on the sidelines while Andretti won the race in the team's back-up Hawk.

Reaching the end of the season, Jackie Stewart had taken the World Championship while Jochen was still flirting with his first Grand Prix victory, having led five of the nine preceding Grands Prix. The win finally came at Watkins Glen, and consummately so, with pole, fastest lap and a dominant race in which Stewart formed the only early-race threat. It was long overdue. His friends would joke that it was typical of Jochen to wait for the richest race of the year to take the spoils. Indeed, he took home 500,000 dollar for the win, the biggest amount of prize money ever awarded until that day. The win also lifted Jochen to 4th in the championship.

More wins would follow soon in 1970, in the season that would be ultimate Rindt – and Rindt's ultimate. Moreover, Rindt's luck turned into fortune, being handed three wins on a plate, at Monaco, Brands Hatch and Clermont-Ferrand, to go with two victories of dominance at Zandvoort and Hockenheim, at the latter track beating Jacky Ickx by three-tenths. His mid-season winning streak in the Lotus 72 in all-conquering C-spec left him with such a lead in the 1970 championship that he could have sealed the title on home ground but on the Österreichring he suffered an engine failure, leaving him to finish it off at Monza.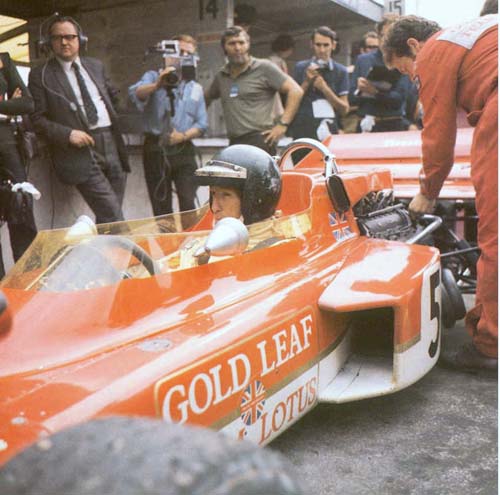 In the pits at Brands Hatch, waiting for things to happen.
This was after Bruce McLaren's death at Goodwood and his good friend Piers Courage's fatal crash at Zandvoort. The Englishman's death in particular had Jochen openly doubt his future in motor racing, with Nina – who had struck off a friendship with Sarah Courage – pressing him to quit. Some say that Jochen had promised to retire once he was a World Champion. With Nina and Natascha he had moved from Austria to Switzerland, to live in a house near the village of Begnins. His businesses were coming good too, with the annual Jochen Rindt Show in Vienna taking up more of his time. Having said that, Bernie Ecclestone had been negotiating with Max Mosley and Robin Herd for Rindt to join March for 1971 in a fully devoted single-car effort completely separated from the customer business. The deal fell through, leaving it unknown what he exactly he would have done in 1971, but staying at Lotus didn't seem a likely scenario.

Then came Monza. He could have taken it easy at the Italian circuit and walked to the title but that wasn't his style. With a wingless Lotus he went back onto the circuit on fresh tyes in an attempt to beat the straightline speed of the Ferraris – some say on the insistence of Colin Chapman. But when he neared the end of his lap the car suddenly snapped to the left and slammed hard into the Armco at the 170 mph entry of Curva Parabolica, at exactly the spot where Wolfgang von Trips was killed nine years earlier. It then careered back onto the track, doing several pirouettes before coming to a standstill.

When the dust cleared everyone could see that half of the front had been ripped away, as a result of the 72's chisel nose having dug in beneath the Armco before being torn to bits. It was later found that this section of Armco had been inproperly secured. To make matters worse, Rindt had the habit of not fastening the crotch straps of his six-point harness, which meant that on impact he had slid forward so much that his main buckle severed his jugular vein. Perhaps Jochen was already dead on impact but as is usual in Italy he officially died in the ambulance rushing him to a hospital in Milan. On investigation, an Italian court later ruled that the accident must have been caused by the right front brakeshaft breaking under the torsional load, thus explaining the sudden jinx to the left under heavy braking, with cold tyres exacerbating the problem. The wingless configuration must have played its part as well, as the car became terribly unstable – it was not for nothing that team mate John Miles flatly to refused to drive it using this set-up.

So as is usually the case with fatal accidents Rindt had been a victim of circumstance. He would probably have lived if just one of the following had happened: the brakeshaft manufacturer not scratching the surface of the shaft during service and thus weakening it, the Lotus team spotting the defect during quality control, the Armco being correctly secured, the FIA inspectors picking up on the faulty fence, Rindt fully buckling up, and perhaps Chapman not sending out his driver in a frightfully unstable 72, instead of the 49 Rindt wanted the team to bring – something that Nina Rindt is still holding against her husband's erstwhile team boss.

The entire paddock was devastated. But with the part-of-the-deal mentality also still firmly holding ground, soon the attention shifted towards the question whether Rindt would stay ahead in the World Championship standings. He had been the only man able to take on the fast Ferraris, which had emerged as strong challengers in the second half of the season while Brabham and Stewart were starting to fall behind. On pace, Ickx and Regazzoni now seemed to have a clear road ahead of them in the remaining three races. And indeed, after Regazzoni's popular victory at Monza, where Ickx dropped out due to a broken clutch, the Belgian duly won at Mont-Tremblant, ahead of his Swiss team mate.

Ickx still had a lot of catching up to do though, as he now trailed 17 points, with a possible 18 still up for grabs in the US and Mexican GPs. So Jacky had a purely mathematical chance to win the World Championship and he didn't want it anyway, with Rindt unable to defend his lead. And so October 4, 1970 became the most important date in the after-life of Jochen Rindt, 1970 World Drivers Champion. The moment Jacky Ickx crossed the line in fourth in the US Grand Prix at Watkins Glen, the Austrian's posthumous title was sealed. Ironically, it was Jochen's upstart successor and future double World Champion who nailed it for him in only his fourth GP.

Rindt's memory was kept alive in several ways. Not only did the Jochen Rindt motorsport exhibition continue after his death, the traditional early-season BARC 200 F2 race at Thruxton would be celebrated as the Jochen Rindt Memorial Trophy as long as Formula 2 managed to live.

On September 5, 2000, precisely 30 years after his fatal accident at Monza, a bronze plate was revealed on his childhood home in Graz. Nina and Natascha were present at the unveiling.