Rouen-les-Essarts: France's forgotten treasure remembered
1973 – Rouen-les-Essarts: Too dangerous?
Author
Date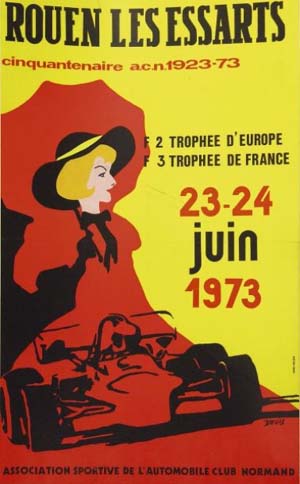 F2 Grand Prix de Rouen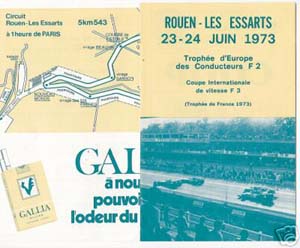 The Formula 2 circus returned to Rouen on the weekend of June 22/23/24, 1973 for round 9 of the European F2 Championship. Much was expected of the race, on what was still one of the fastest tracks in Europe despite the new permanent link built the year previously. The organisers had worked hard to ready the circuit, resurfacing of the entire layout had taken place, and work had been done on the Armco around the entire circuit. The Armco immediately raised concerns: it had been re-sited in many places, and some were disturbed to find that instead of being solidly built into the ground, it was actually possible to lift it and move it by hand back and forth by about 6 inches. This was pointed out to the drivers, but nothing was done about it. There would be tragic consequences of this oversight, and unfortunately it wasn't until a death before something would be done about it.

The tragedy occurred in the final session on Saturday. Talented Scot Gerry Birrell had been trying hard to set a fast time, after the works Chevron B25s had been unable to race the previous day due to customs delays. As he accelerated hard through the daunting sweepers past the pits, his Chevron suffered a front-tyre failure at 155mph as he entered Six Frères. With both front wheels locked, Birrell was a passenger as his car hit the Armco head-on. The Armco, supposedly put there to protect drivers, now spectacularly failed to do its job. It lifted up on impact, and Birrell was killed instantly as his car passed underneath it. It was a terrible blow, not only for the poor driver, but for European motor racing as a whole. Birrell had been expected to replace Jackie Stewart at Tyrrell for the 1974 season, and he had also been instrumental in developing the Ford Escort RS1300. His devastated mechanics made a makeshift memorial to him at the place he had crashed, carving a small marker into a tree. Unfortunately a permanent marker was never made, and the tree was scandalously cut down during the track's destruction in 1999.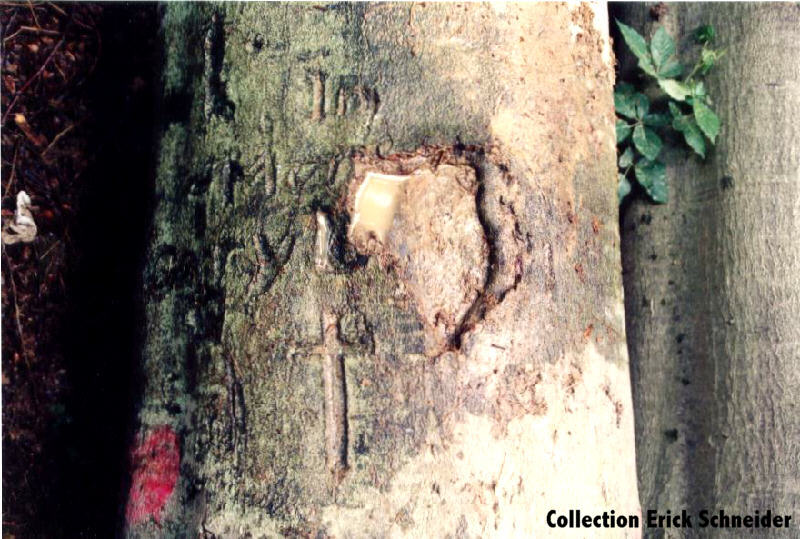 The memorial to Gerry Birrell (copyright Erick Schneider, no reproduction without permission)
Gerry Birrell's needless death caused the circuit's safety to be put into question once again, almost a re-run of the tragic 1970 weekend. The drivers, who previously had not complained about the dangerous nature of this part of the circuit, quickly held a meeting, in which they agreed to demand either the safety aspects of the circuit be sorted out, or they would refuse to race. Initially the organisers would not budge, and the whole weekend's racing seemed in jeopardy. Then, a strange compromise was reached: the race would go ahead, but only after a temporary chicane was installed in between the first and second corners.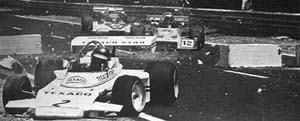 Sure enough, some polystyrene bales were hastily found and placed on the track, thereby creating an even more dangerous situation. Here, the drivers would need to break from 155mph into a second gear, extremely tight chicane, on what was already a narrow road. If the chicane was dislodged or destroyed during the race, the original track would be used. In a word: madness. This crazy decision did indeed cause a big accident for Ronnie Peterson, but thankfully no more deaths.

Saturday Practice
Previous to this, some racing had been possible! Championship leader Jean-Pierre Jarier surprised nobody by taking pole in his March, with a startling 1m43.8s, almost half a second clear of Patrick Depailler in the Elf, and a full three seconds faster than Mike Hailwood's lap record!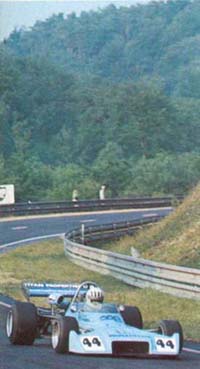 Jochen Mass was next in his Surtees, a further .1 of a second back, and Hans Stuck rounded out the second row in the second of the Marches. Probably the biggest effort came from Bob Wollek in the Rondel M1, who put two enormous accidents in previous years at Rouen behind him to post fifth fastest time. Roger Williamson in the brand-new Wheatcroft March posted sixth fastest time in 1m45s followed by Colin Vandervell in his March. Peter Gethin in the Chevron had equalled Vandervell's time but his entry was withdrawn following his teammate's accident. Australian Tim Schenken was next in his Rondel, from Jacques Coulon in a March, and a very happy Wilson Fittipaldi in a new works Schnitzer-BMW engined Brabham BT40. Jean-Pierre Jabouille was next up in the Elf, struggling with its handling, with Reine Wisell in a GRD in 12th. 13th was Brett Lunger in his semi-works Chevron, with Welshman Tom Pryce (in the picture on the right) doing well in his BDA M1 in 14th.

Next were Hiroshi Kazato in a GRD, José Dolhem in the second Surtees and Jean-Pierre Jaussaud in his BDG. Meanwhile, the mighty Lotus team was struggling, F1 World Champion Emerson Fittipaldi down in 19th, while Ronnie Peterson was even further back behind the GRDs of Sten Gunnarson and Tetsu Izukawa after engine problems in practice. Dave Morgan in a Chevron, Brendan McInerney in a GRD and finally François Migault in the dreadfully slow Pygmee rounded out the qualifiers.

Sunday Practice
After Saturday's chaos, things were much more settled for Sunday. The chicane had been built, four polystyrene bales placed two by two on either side of the road and separated by 10 yards. Fittipaldi tested the track with the new chicane, and then the others came out for a 45-minute untimed session. To end any heroics under braking, a no-overtaking rule was enforced 200 metres before the chicane. The chicane was flimsy at best – the slightest brush from a car would send bits and pieces flying everywhere, and ten marshalls were stationed in the area to replace the bales every lap.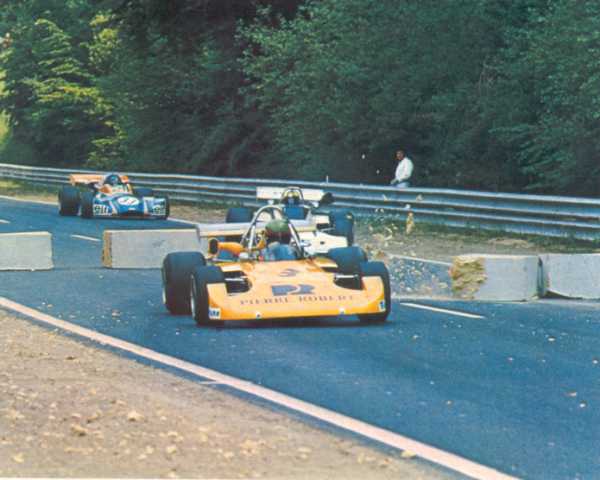 Reine Wisell negotiates the temporary chicane.
But the chicane only slowed the cars for the lefthander: Mass reckoned he was only going about 200 revs or so slower round Six Frères! Meanwhile Depailler had an engine fail on him, so he took over Jabouille's car and grid position, leaving pole position empty in his heat. For the heats the organisers took alternate times, so first lined up alongside third in Heat 1, while second lined up with fourth in Heat 2, and so forth.

Heat 1
Heat 1 saw Jarier take an easy win, with Tim Schenken profiting from Coulon's car suffering from a sick engine to take second at the last corner. Mass suffered engine failure early on, while Vandervell struggled with his car stuck in 5th gear for most of the race to take 4th, 2 laps behind.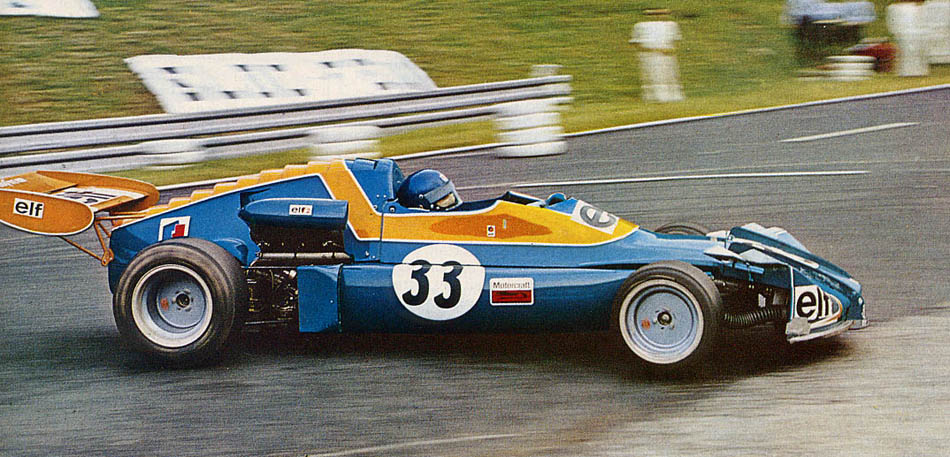 Patrick Depailler on his way to 6th.
Heat 2
Heat 2 was far more exciting, Williamson taking advantage of Depailler's earlier misfortune to take the early lead while the others squabbled behind him. The chicane became an issue in this race, with Dolhem in particular regularly hitting it and sending debris flying. Stuck encountered gear linkage problems which eventually forced his retirement, Tom Pryce pitted on lap 9 with fuel pump issues, while Williamson's dominant lead turned to dust as he succumbed to oil pressure problems. Wilson Fittipaldi now hit the front in his Brabham, but came under increasing pressure from Depailler before Depailler was struck down by the scourge of the chicane, breaking a wheel after giving it a solid thump. Then came further spectacular destruction of the by now despised chicane, Ronnie Peterson collecting it with his rear wheel and being catapulted into the fence. His unhappy weekend was now over.

Jaussaud passes through the remains of the chicane.
Second-placed Wisell also came a cropper, having his place taken from him after also breaking a wheel with a sharp whack on the chicane. W Fittipaldi finally won the race from Jassaud, Dolhem, Wisell in fourth and Depailler fifth. Poor old Emerson Fittipaldi had numerous problems and finished sixth, three laps behind, while Tom Pryce re-appeared to finish six laps behind.

Final
The Final saw Stuck, Coulon, Gunnarson and Mass acquire new engines to make the grid, but unfortunately Dolhem crashed his car during the warm-up, and Williamson's car was unable to be repaired in time. 18 cars greeted the starter, and 17 of them could only watch as Jarier disappeared into the distance after rocketing away from pole. He was almost 5 seconds clear after just one lap, and was a full half minute ahead after 10. Schenken led the rest fighting gamely to keep W Fittipaldi, Coulon, Jassaud and the rest behind him.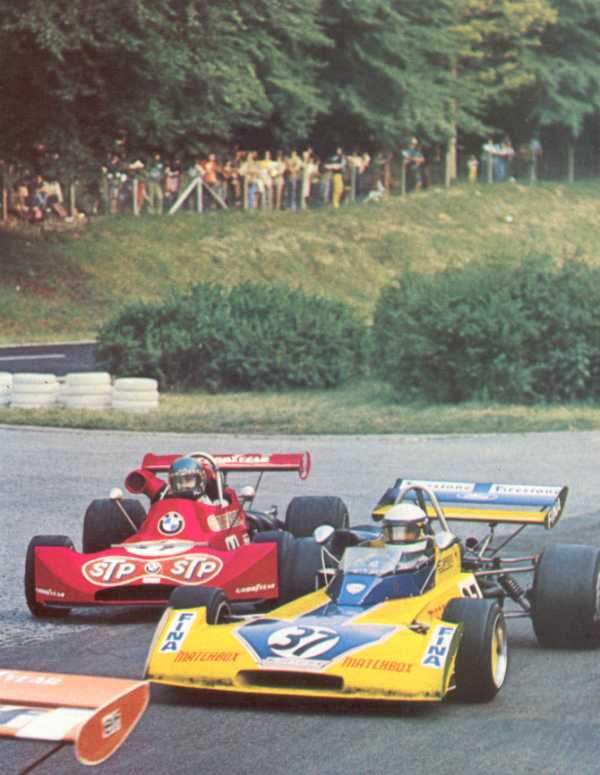 Mass holds off a charging Stuck.
Stuck meanwhile was making huge progress from the rear of the field, and had made his way to third by lap 9. On the same lap came the only real drama of the race as Jarier almost threw it away attempting to pass the very slow Lotus of E Fittipaldi. As they cleared the chicane Jarier gave the accelerator too much welly and spun the car, coming to rest pointing the wrong way against the Armco. Luckily no damage was done, and Jarier restarted his BMW engine and resumed, now just 3 seconds ahead of the pack. He quickly rebuilt his lead to 15 seconds, while Stuck's great drive came to an end as he damaged his radiator on the run up the hill. Mass meanwhile closed on Schenken and slipped past on lap 17 to take second.

Wilson Fittipaldi wallops the chicane on his way to 5th.
So Jarier duly came in 20 seconds clear to take a dominant win, while Mass held onto second despite his rear wing beginning to fall off. Schenken came home third, from Coulon, W Fittipaldi and Depailler. Of the rest, Vandervell's story was possibly the most interesting, the Englishman forced to battle along the whole race still stuck in 5th gear, and eventually finishing last, a full 27 laps behind Jarier.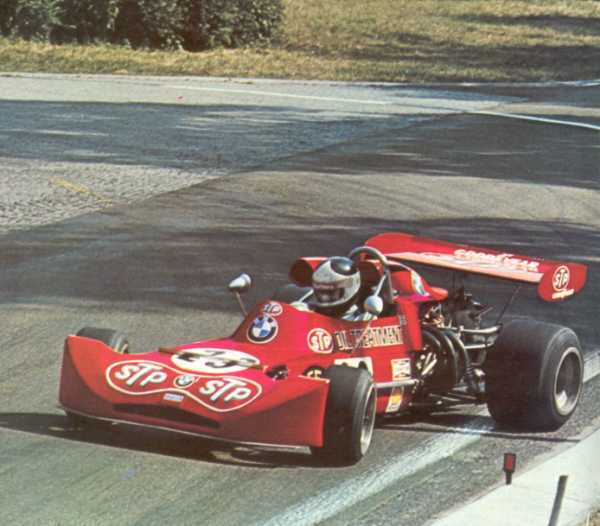 Jarier sideways exiting Nouveau Monde on his way to a dominant win.