The last oddball at the Indianapolis Motor Speedway
Part 4: Performance evaluation (1)
Author
Date
Related articles
March-Porsche 90P - The last oddball at the Indianapolis Motor Speedway, by Henri Greuter
March-Alfa Romeo 90CA - Fiasco Italo-Brittanico, by Henri Greuter
Porsche - Weissach's single Grand Prix win, by Mattijs Diepraam/Felix Muelas
Who?

Teo Fabi

What?

March-Porsche 90P

Where?

Indianapolis

When?

1990 Indianapolis 500
Why?
With respect to the Porsche team's plan for the 1990 season, here's a little-known fact to begin with. An article published late 1989 in a Dutch magazine9 stated Arie Luyendijk had been in touch to drive a second Porsche. The plan fell through because at that time Porsche only considered entering a second car for the two 500-mile races. Luyendijk, however, wanted (and eventually got) a ride for the entire season and certainly left his mark that year. Arie wasn't a tall, sturdily built driver but it remains a question whether he could have squeezed himself into the 90P…
A Pancake of a wrong recipe
The Porsche CART project ran into major problems from late 1989 on. The Porsche factory had financial difficulties to begin with. Money for the project was running short but relief appeared in the rotund shape of Belgian Jean-Pierre van Rossem. Van Rossem funded the Onyx F1 team with his Moneytron money and was eager to obtain the latest Porsche F1 engines (under development at the time) for Onyx. In return he would sponsor the Porsche CART effort.

Then, early January CART indicated that, after complaints by both Roger Penske (who built his own cars) and Carl Haas (representing Lola in the USA), there were problems with the eligibility of March-Porsche's all-carbon monocoque. Also, CART had doubts whether such an all-carbon 'coque would be able to withstand secondary or even multiple impacts. March claimed the choice for the full-carbon monocoque was based primarily on safety grounds as well as being cheaper when building a small batch of cars. March men Gordon Coppuck and Dave Reeves went to the USA in order to defend their car, but to no avail. Halfway January the 22-man strong CART board voted down the permission for all-carbon cars to compete in 1990, though for 1991 the concept was likely to be allowed! March announced that the completion of the first car for the Porsche team was to be delayed for about two weeks and testing would start in March at the earliest.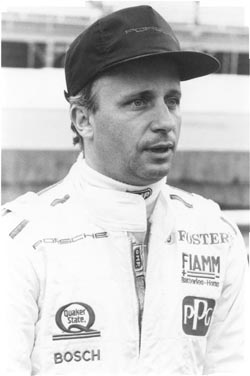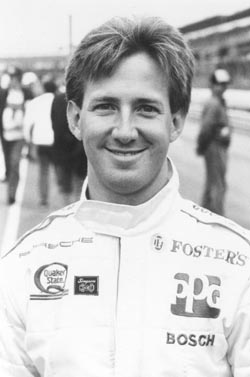 The two drivers, Teo Fabi and John Andretti. John is the son of Aldo, nephew of Mario and cousin of Michael Andretti.
Exactly why this permission was withdrawn remains something of a mystery. One story I was told by an insider within the Porsche team was the fact that initially nobody had problems with waiving the rules for 1990 already. Then Penske, assuming that their British factory would be capable to build carbon tubes for their CART team, discovered that building an all-carbon tub wasn't that easy after all. Thus, with the technology not yet available to them they persuaded CART to withdraw the permission for Porsche because it would be an unfair advantage available to only a single team.

If true, this theory suggests CART was playing a political game.

Maybe the fact that just one team had an advantage - if it was one to begin with, of course - would not have been such a problem if it had been a team other than Porsche. The fear for Porsche domination had never been far away among CART entrants. As long as Porsche had problems as they had in 1988 they were welcome. But when the team caught up and gained momentum during 1989, the comments about Porsche's CART adventure being a 'factory effort' grudually began to increase in number. Porsche's reputation of 'killing' competitive series (Group 4, 5, 6, Can-Am, IMSA, Group C) through their dominance wasn't forgotten either. And none of Porsche's technology, either engine or chassis or entire package, was available to others. Needless to say that at the end of 1989, with a fairly successful second half of the season for the Porsche team, a number of teams were worried that the Chevy V8 domination was to be thrown over to be replaced by Porsche domination. Not that the Porsche V8 engine appeared to be dominant over Ilmor's Chevy engines in late 1989. But what if it improved dramatically for 1990? And what if the improved Porsche V8 was fitted in a chassis that theoretically offered large advantages over the partly aluminium 'coques of the other cars? Especially if the Porsche team would have that all-carbon chassis advantage exclusively to themselves? Say what you want about the all-dominant Ilmor-Chevy engine but there were at least eight of them in every race, used among different teams.

The 90P in its first incarnation being tested. The car never raced in this color scheme and was reworked extensively from here on. (photo courtesy Karl Ludvigsen)
Whatever the truth, the result was that the permission to build an entirely carbon 'coque for 1990 was withdrawn. Like the other cars the 90P 'coque had to be partly aluminium again. That effectively killed off the March-Porsche 90P.

If all these car-related troubles weren't enough, the entire Porsche CART team encountered yet another setback. Early February Porsche announced their new F1 V12 was to go to Arrows. Jean-Pierre van Rossem responded with withdrawing his support for the Porsche CART team, leaving it without enough sponsorship money. Porsche found a very remarkable way in which to attract the attention to their problem: they advertised the opportunity to become the main sponsor of its CART team in one of the leading New York newspapers!
Pancake eaten alive after difficult creation and re-creation
Porsche had no option but to to redesign and modify their revolutionary machine. It hurt the car massively. The initially all-carbon monocoque had been lighter and stiffer, and it has been claimed a crash test proved that the original all-carbon 'coque was able to withstand higher forces than an alu & carbon 'coque, also meaning that it offered better safety.

Not only were all these benefits lost, the redesigned car became too heavy as well. Early February it became clear that Porsche could possibly start the CART season with a lone, revised 90P destined for Teo Fabi. Tests at Phoenix with an updated 89P showed that this car was 0.2 seconds slower than the fastest car, a 1990 Penske, driven by Rick Mears.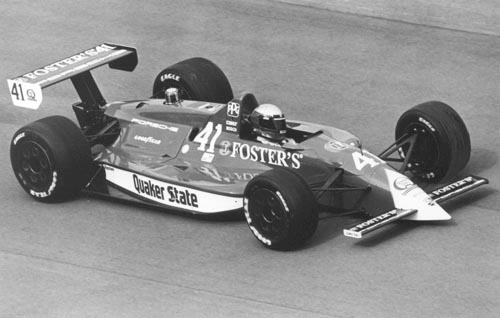 Profile of the March-Porsche 90P. The dark circle in the bodywork in front of the 41 is the turbocharger air inlet.
Tests with the modified 90P yielded positive comments from John Andretti. Teo Fabi tried it in practice for the season-opening Phoenix 200. He parked the car, as it didn't respond to chassis and aerodynamical tweaks. Fabi commented that right from the beginning the car didn't give any feedback and that more work was needed, more than was to be done within the USA. Porsche's technical director Helmut Flegl announced that March personnel would travel to the USA in order to see what needed to be changed onto 90Ps that were yet to be built. Work was definitely needed, as even a rival team's engineer who had seen the 90P in action commented that the car made no sense to him aerodynamically.

With the re-redesign work of the 90P not ready, the 89P's were pressed into service again for Long Beach, where Fabi finished 10th.

At both Phoenix and Long Beach the 89Ps ran in plain white with black lettering. The 90P had been photographed in this disguise too, see page 53 of the Official Indianapolis 500 1990 program.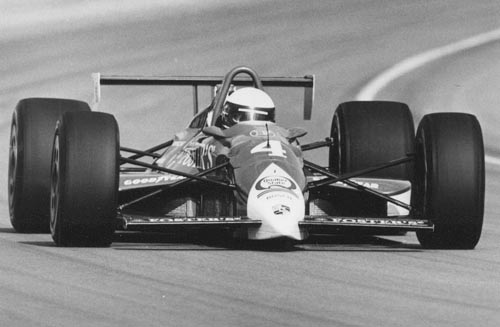 A picture showing how low the March-Porsche 90P actually was.
The month of May began in a better vein for Porsche when they announced a new team sponsor, Foster's. The newly updated 90P design had been tried out another time, reacted much better and so the go-ahead was given for it to appear at Indianapolis later that month. Thanks to the Foster's sponsorship, the white and green cars now received an attractive, primarily dark blue paint scheme.

A Dutch magazine published an article about the current state of Porsche's motorsport situation.10 It contained some interesting notes. Dr. Ulrich Bez said of the CART program that Porsche started it with high expectations but didn't expect their chassis partner to be unable to come up with the goods. He indicated something about the 90P's initial track behaviour by telling. "When you have to use the brakes in the corners at Phoenix it's a clear sign that the chassis has to go back to the drawing broad."

Another interesting published observation was related to the sudden rule change forbidding all-carbon monocoques. Ten years earlier, a sudden rule change to the contemporary Indianapolis rules caused Porsche to withdraw from the series. This time however, Porsche appeared to have accepted the decision and not to make too much of a fuss about it. The importance of the American market for production Porsches was suggested to be a factor in this attitude. The article also hinted at 1990 possibly being the last CART season for Porsche. Answers to that question weren't given, other than the comment that there would be a lot of pressure on Porsche working on the F1 engine as well as another 3.5-litre engine for sportscar racing.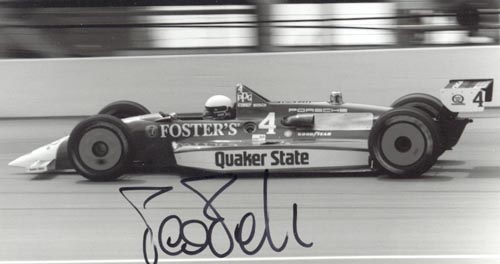 Another testimony to the low profile of the car. Teo signed this picture.
And remember how Porsche obtained sponsorship for its CART efforts by advertising the availability of title sponsorship? In a reversal of this situation, Porsche became the title sponsor of the CART season's race reports on the pan-European Sports Channel best known in Europe as "Screensport".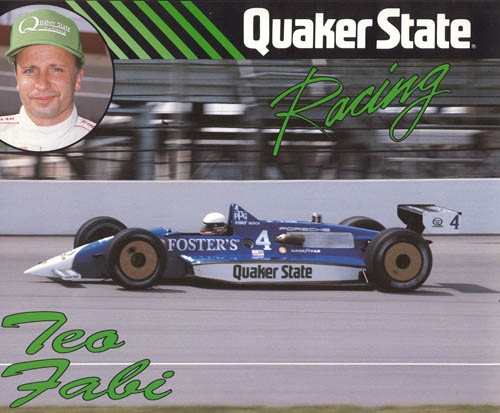 Another Porsche promocard, released in 1990.